'The Hateful Eight' Will Be Quentin Tarantino's 70mm Last Stand
The director's new movie is the widest large format film release in 20 years, but is that a wise move?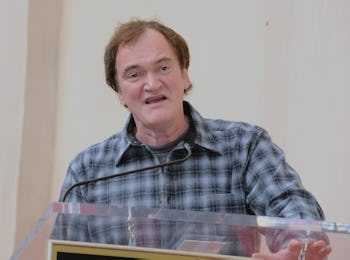 Getty Images
The new film by die-hard film dude Quentin Tarantino will arrive on Christmas Day, but if you want to see it you better make sure your local theater has a good projectionist. The Hateful Eight will debut exclusively in 70mm on December 25 and will expand to a wide digital release two weeks later.
The unbelievably gorgeous format is known for its wide scope and crisp, vivid colors, and used to be the industry standard for mind-blowing Hollywood epics like Lawrence of Arabia before large format film projection was gradually replaced by convenient digital projection.
According to longtime Tarantino collaborators The Weinstein Company, who are releasing the movie, this rollout strategy marks the widest 70mm release in 20 years.
It also caps a growing trend of major filmmakers pushing for film as the optimum method of seeing movies in theaters, effectively making the releases of new movies event again. The Weinstein Company helped distribute director Paul Thomas Anderson's heady Scientology drama The Master in 70mm prints in 2012, and last year Christopher Nolan's sci-fi blockbuster Interstellar rolled out in multiple digital and film formats, including IMAX 70mm.
The Weinstein Company's President of Theatrical Distribution and Home Entertainment Erik Lomis, said in a statement, "Our long relationship with Quentin Tarantino is one of the cornerstones of this company, so it's incredibly special to us to be releasing his latest film in such a spectacular way on 70mm — we can't think of a finer Christmas gift to be giving movie lovers and Tarantino fans this year."
As a staunch film supporter (his privately owned New Beverly Cinema in LA shows movies exclusively on film), Tarantino is doubling down and taking a stand to be the flag-bearer of celluloid. He even reportedly plans to retrofit theaters without film projectors to be able to show The Hateful Eight. 
The question is whether or not limiting the initial release to theaters that can only project 70mm film will backfire. It's the kind of stunt only someone like Tarantino could pull off. He's got the track record with the Weinsteins, he's got the pro-celluloid clout, and he's coming off of Django Unchained, which was the highest grossing movie of his career.