Can A.I. Fix the World's Biggest Problems? XPRIZE Aims to Find Out
How A.I. researchers are making "amazing" happen.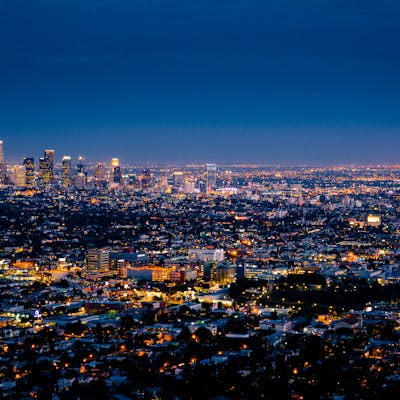 Unsplash / Henning Witzel
Amir Banifatemi thinks he's on the cusp of something big, having found himself at the heart of a movement that may overcome some of the world's biggest challenges, thanks to ambitious developments in artificial intelligence.
Banifatemi is the lead of IBM Watson's $5 million AI XPRIZE competition, wherein three new teams have recently joined the field in a competition that's "challenging teams globally to develop and demonstrate how humans can collaborate with powerful AI technologies to tackle the world's grand challenges."
The three teams have different goals that would revolutionize education, alert the masses in the seconds after a disaster, and solve malaria. (Around 3,500 teams first entered the competition when it began in 2016, a figure whittled down to a starting block of 147 teams later that year.)
"The design of this competition led us to understand one thing: If you give people the opportunity to talk about their problems, and you match them with A.I. researchers, amazing theories and concepts and projects can happen," Banifatemi explains to Inverse.
The field has now shrunk down to 62, including three so-called "Wild Card" teams that were added this month. (These are teams that entered through a special process after the competition start date, a mechanism designed to ensure that external breakthroughs have a chance at competing before the final deadline.) The final "Wild Card" round is set for this fall, before the finalists compete for the grand prize at the TED 2020 conference in Vancouver.
The three latest new teams — from the US, the Netherlands, and Israel — will receive a large amount of support and connections to achieve their goals. A number of labs support the foundation's mission, including Stanford University, the University of South Carolina, the University of Cambridge, as well as big names like WeWork and startup accelerator Techstars.
Here are the three latest "Wild Card" entrants, chosen from a list of 16, that are seeking a $5 million prize for their efforts.
This American educational project, co-founded by James Villarrubia and Bernie Prat, wants to use its system to create a free, global, self-improving online textbook. In many ways, it's Wikipedia taken to a whole new level.
"The new textbook is not just a textbook that is written and stays there," Banifatemi tells Inverse. "It evolves, because of real-time enhancements to learning, coming from the crowd and natural-language processing. All this environment of learning, testing, cost of learning, could be pretty much provided for free."
The proposal would expand on the initial system released by the team. A teacher chooses their favorite learning content like an online video, Andi the A.I. analyzes the content, it creates a quiz based on what has worked well for teachers and classrooms like yours, the teacher assigns the quiz and Andi grades the results.The system creates quizzes with up to 100 questions in seconds. So far it has over 25,000 answers and 3,000 questions spanning 80 lessons with the support of 200 contributors.
"The crowd participation allows to create clusters and patterns of types of learning," Banifatemi says. "That is an opportunity to demonstrate further that this direction and approach could be beneficial to learning."
This A.I. team was founded in the Netherlands by CEO Taras Matselyukh, and its new project is aimed at providing notification systems for natural disasters. The project aims to predict extreme weather conditions and provide warnings, giving teams vital time so they can direct resources efficiently.
"The response that we provide is based on urgency," Banifatemi says. "We have to send Red Cross, U.S. Aid…how can we predict this early enough and what mechanism can we provide by having the crowd involved into a layer of intelligence?"
As an example, crowdsourced feedback can give the A.I. an idea of the sort of early warning signs that a disaster is imminent. This data can be used in a presentable format, like mapping, to help teams understand issues like whether sanitation is less pressing than life-saving moves that can take place now. The data doesn't necessarily feed back solely to organizations, as it can benefit on-the-ground teams already using other sets of information to augment their work.
This team from Israel is aimed at ending malaria, a disease that affected 200 million and killed 400,000 in Africa last year. This is done by tacking some of the reasons why the disease is so widespread, like unreliable infrastructure and limited resources. The team aims to use machine learning on satellite imagery to produce reports that can effectively allocate resources, creating intervention strategies even for small villages.
"There are probably early signs that could show outbreak and could be preventative, so it doesn't grow as fast," Banifatemi says.
The system builds on the idea that satellite imagery can be used today to create poverty maps and predict crop issues, even creating models useful in trade and geolocation analysis. The goal is to develop a framework that can be used by others, with a real-time dashboard displaying a breakdown of information.
What's Next
These three teams are joining the XPRIZE Foundation at a time when it's influencing a global movement. The A.I. for Good Global Summit, which began Tuesday in Geneva,](https://www.itu.int/en/ITU-T/AI/2018/Pages/default.aspx), which began Tuesday in Geneva, shows how world leaders are thinking about how ideas like these and others are influencing the future.
"This movement of 'A.I. for Good' borne out of this competition makes a lot of sense," Banifatemi says. "There's basically a new trend that had happened, that we didn't plan for, where there is an emergence of interest in making A.I. more widely available everywhere."
Out of the 62 teams, five teams from the competition will attend the meeting. Billed as "the leading United Nations platform for dialogue on A.I.," the event is set to attract a dizzying array of organizations grappling with questions around how super-smart robots will shape our world.
Read more about the IBM Watson A.I. XPRIZE