Where Is Ethereum Going? 5 Predictions for Ether Price and Value in 2018
The cryptocurrency is about to make some big movements.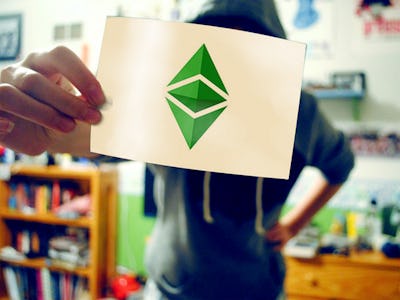 Flickr / EthereumClassic
Ethereum is making gains. The world's second-largest cryptocurrency jumped 1.45 percent on Monday, reaching a market cap of $70.7 billion and a price per coin of $710.94. That's a far cry from its all-time high on January 10, where it reached $1,417.38, but experts predict the cryptocurrency making big jumps over the coming year.
Here are the five predictions you need to know about:
$2,500 by End of 2018
The price of the Ether token could surge past its all-time high over the next few months, according to the head of a financial consulting firm.
"The price of Ethereum is predicted to increase significantly this year, and could hit $2,500 by the end of 2018 with a further increase by 2019 and 2020," Nigel Green, founder and CEO of deVere Group, told MarketWatch in a story published on April 27.
This boost will come from three drivers: more platforms using Ethereum to trade, the decentralization of cloud computing where Ethereum can play a big role, and the increased use of the cryptocurrency's smart contracts.
Bigger Than Bitcoin This Year
Ethereum could move past Bitcoin this year, according to Roger Ver. In an interview with The Independent last week, the investor said that the change is "imminent," followed by Bitcoin Cash overtaking Bitcoin by 2020.
Ver told Hard Fork in an interview shared on February 25 that a "flippening" is "more likely than not…Ethereum only has to double in price one more time in order to surpass Bitcoin's market cap."
In fact, Ver went as far as to say the only people who will be surprised by this change are "the Bitcoin Core supporters" that have "convinced themselves that good is bad, up is down," and are "living in nonsense land." Ver highlighted high transaction fees and delays as downsides to Bitcoin.
$1,500 This Year
Reddit co-founder Alexis Ohanian gave a rather more conservative prediction to Fortune, predicting a rise of around $100 part its all-time high.
"At the end of the year, Bitcoin will be at $20,000. And Ethereum will be at $15,000," he told the publication, later noting that he misspoke and intended to say Ethereum would hit $1,500. "Great, now people can call me out if I'm wrong."
He said this rise would be fueled by apps like CryptoKitties, which show the cryptocurrency's potential.
Sci-Fi Boosting Ethereum Past Bitcoin
Olaf Carlson-Wee, CEO of Polychain Capital and notably the first Coinbase employee, made a bold prediction in an interview with Bloomberg in December 2017. Claiming that "the types of things we're seeing built on Ethereum are almost a bit sci-fi," Carlson Wee reiterated his claim from May of that year that by the end of 2018, Ethereum would surpass Bitcoin in terms of value.
"It's beyond anything that you would reasonably think was possible," Carlson-Wee said. "So, to me, a lot of what I'm interested in are the applications that will be natively enabled by this technology. Not an improvement in payment speed or an improvement in store of wealth, where there are many other services that offer those things. But like the internet, the most breakthrough things built on the internet were not possible in an analog world."
Three Times Bigger in 2018
Ethereum's co-creator Steven Nerayoff said at the start of this year that the cryptocurrency could grow three times bigger than its then-market cap of $110 billion. This is because businesses are realizing the potential for its uses, suggesting an upcoming boom in areas like oil and gas. Its fast transaction processing time is also a big benefit.
"What you're seeing with Ethereum is exponential increase in the number of projects — there are billions of dollars being poured into the ecosystem right now — maybe 10 times more projects this year than last year, which could easily lead to a doubling, probably a tripling in price by the end of the year," Nerayoff told CNBC on January 8.
This doesn't mean he thinks it will overtake Bitcoin, though. Nerayoff said the "entire space is increasing," with huge public interest and a wide variety of options for consumers to invest.