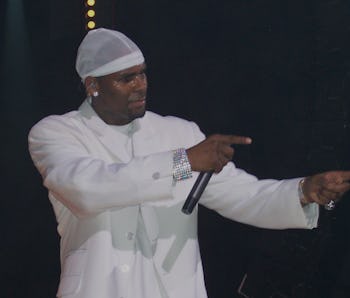 Culture
Spotify Removes R. Kelly From Playlists, and People Are Crying "Censorship"
Wikicommens
R. Kelly and XXXTentacion will no longer be found in Spotify playlists as of Thursday. The streaming giant announced a new "Hate Content and Hateful Conduct Policy," which seeks to promote "openness, diversity, tolerance, and respect." However, fans of R. Kelly don't see it that way.
Spotify on Thursday announced its new policy with intent to remove "content that expressly and principally promotes, advocates, or incites hatred or violence against a group or individual based on characteristics, including, race, religion, gender identity, sex, ethnicity, nationality, sexual orientation, veteran status, or disability." R. Kelly and XXXTentacion happen to be the first artists removed from the company's editorial and algorithmic playlists, but some worry they won't be the last, prompting even critics of R. Kelly to defend his music on the streaming platform.
While many are citing the First Amendment for R. Kelly's apparent right to be on the service, it's important to note that R. Kelly is not banned from the entire streaming service. His and XXXTentacion's music will still be available on Spotify for anyone actively seeking it, but Spotify will no longer be promoting the two artists on the company's curated playlists and algorithms. The company won't censor the songs from anyone who wants to listen, but also won't endorse the songs in its editorial selections.
"When we look at promotion, we look at issues around hateful conduct, where you have an artist or another creator who has done something off-platform that is so particularly out of line with our values, egregious, in a way that it becomes something that we don't want to associate ourselves with." Jonathan Prince, Spotify's VP/Head of Content and Marketplace Policy, told Billboard. "So we've decided that in some circumstances, we may choose to not work with that artist or their content in the same way—to not program it, to not playlist it, to not do artist marketing campaigns with that artist."
Spotify has not specified which artists will be next to lose promotion on the company's playlists, but Prince is steadfast that the choice is not censorship so much as an editorial decision not to endorse some artists' product. "I think that, frankly, all of us have become increasingly aware of the responsibility that we have when we make recommendations about content, and particularly when we're doing that in a way that may send signals to our audience about what we believe and what we value," he said.
By acting on these values, Spotify opens a conversation about whether streaming services have a responsibility to prevent hateful content. Even if R. Kelly's music is still available on Spotify, the company's move will showcase the extent of its influence and will most likely have consequences for the artist's streaming metrics.