'Infinity War' Stars Pull a 'Lord of the Rings' With Avengers Tattoos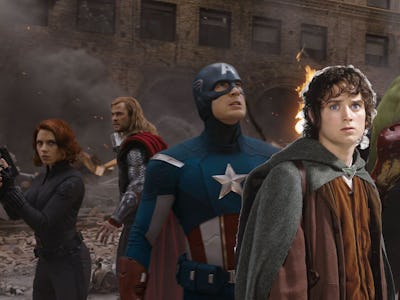 Warner Bros. Pictures
When the cast of Peter Jackson's 2001 epic The Lord of the Rings: The Fellowship of the Ring wrapped filming, the nine actors who made up the Fellowship got matching tattoos to immortalize their time together. Now, so have the Avengers, as most of the core cast of 2012's The Avengers have been tatted up in the aftermath of this year's Avengers: Infinity War.
On Monday, Iron Man actor Robert Downey, Jr. shared several pictures and videos on his Instagram page of himself and his Avengers cast-mates, Chris Hemsworth and Jeremy Renner, getting matching tattoos in Los Angeles. The tattoos depict a stylized letter "A" based off the Avengers logo, and a number "6" to symbolize the original six Avengers.
The idea came from Scarlett Johansson, who got her tattoo along with Chris Evans in New York. There was only one Avenger who opted out, and it was the Hulk himself, Mark Ruffalo, for undisclosed reasons.
In quotes published by Entertainment Weekly, Downey, Jr. explained that the tattoos were done by New York tattoo artist Josh Lord, who did Johansson and Evans's tattoos and then flew to L.A. to do the rest of the participating Avengers. To make up for the missing Hulk, each of the Avengers drew a portion of the tattoo on Lord, which Downey Jr. described as a "total massacre."
"Each of us contributed to giving the tattoo artist the sixth tattoo that he designed for us," Downey, Jr. said. He also revealed Hemsworth was "bullied" into it, proving that even the God of Thunder is wary of needles and ink.
The Avengers cast getting tattoos is heavily reminiscent of the original Lord of the Rings cast getting their own matching tattoos, of the word "nine" written in Elvish. Also like the Avengers, the majority of the Fellowship got tattoos except John Rhys-Davies, who played "Gimli" in the film trilogy. (In his place, Rhys-Davies's stunt double got the tattoo.)
Though the Avengers are played by veteran Hollywood actors, it's cool to see them doing something college kids would do on spring break. Hardcore Marvel fans will remember what Captain America told Iron Man in 2015's Avengers: Age of Ultron: When Iron Man fears they'd lose, Steve Rogers bravely tells them, "Then we'll do that together, too."
Avengers: Infinity War is in theaters now.