Rick Moranis is Playing Darth Helmet Again, But It's No 'Spaceballs 2'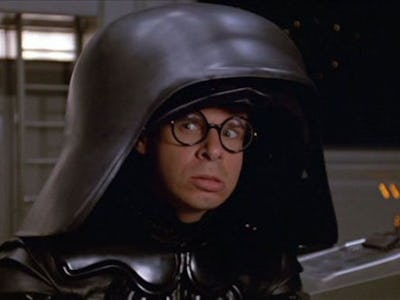 Metro-Goldwyn-Mayer
Man, isn't Rick Moranis just the best? The Canadian actor, beloved for his roles in classic Eighties comedies like Ghostbusters, Honey I Shrunk the Kids, and Little Shop of Horror, essentially retired from acting two decades ago, but he's returning, albeit briefly, to play one of his most iconic roles. Darth Helmet, the big-headed big bad from Mel Brooks's Spaceballs, will harness the power of Schwartz once again.
It's not Spaceballs 2, however, no matter how much fans want a sequel to Brooks's 1987 parody of Star Wars. Instead, Moranis will voice Darth Helmet in an upcoming episode of ABC's Eighties comedy The Goldbergs. In the episode, the main character, a young, fictionalized version of the series's creator Adam Goldberg, dreams about Spaceballs. USA Today reports that Darth Helmet will "storm" Adams bedroom in his dream, and that Adam will wake up determined to make a sequel to Spaceballs a reality.
That's kind of what the real-life Adam Goldberg is doing.
"I truly think Rick Moranis gave the most underrated and brilliant comedic performance in any Eighties movie as Dark Helmet," Goldberg explained in a statement to USA Today. "I've been a lifelong fan of his work and became obsessed with having him reprise the role on my show. As an added bonus, maybe this even gets Spaceballs back in the conversation, and I can get my dream of helping make a sequel!"
There has been talk of a Spaceballs sequel ever since the original film joking teased the eventual release of "Spaceballs 2: The Search for More Money" but nothing official has happened yet. A year ago, Brooks said he was "talking" with MGM about a possible sequel, and that he'd only do it if Moranis returned, but nothing concrete has come of that, it seems.
Moranis's return to the screen (or his voice, at least) is a pretty big deal. He took a break from acting in 1997 to focus on raising his kids following the death of his wife, Ann Belsky, earlier in the decade. That break essentially became permanent, though he's done a very limited amount of voice acting since then. Goldberg said it took a lot of convincing to get Moranis, who declined an invitation to make a cameo in the 2016 Ghostbusters, to agree to lend his voice to The Goldbergs.
The episode of The Goldbergs with Moranis in it, aptly titled "Spaceballs," will air on Wednesday, May 9, on ABC at 8 p.m. Eastern.