Oklahoma High Schooler's Carbon Discovery Elicits Wonder From Experts
"It's a wonderful, wonderful thing."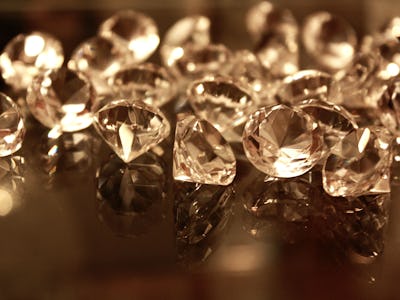 Flickr
Taking teenage rebellion to a new level, Oklahoma high school senior George Wang stunned teachers and fellow students when in April he co-authored a chemistry paper up-ending a long-held belief about carbon, a fundamental element of life. In his Journal of Molecular Modeling paper, Wang and his two mentors showed that carbon, long thought to be only capable of forming four bonds, can actually form seven. In publishing this unprecedented work, Wang joins a community of theoretical chemists who explain to Inverse that the discovery is far more than a mere scientific achievement.
Among the scientists who reviewed Wang's work before it was published in the journal was Joel Liebman, Ph.D., a professor of chemistry at the University of Maryland, Baltimore County (UMBC). "I recall getting it, finding myself liking it, recommending it for publication," he tells Inverse, "but never dreaming it was a high school student, never asking it, never challenging it." The names and affiliations on the paper, which also included Wang's high school chemistry professor at the Oklahoma School of Science and Mathematics, Dr. A.K. Fazlur Rahman, and University of Oklahoma chemist Bin Wang, Ph.D., weren't familiar to Liebman, who only found out that George was in high school when Inverse wrote to him in late April.
"To find out a high school student was involved, I think the most remarkable thing about it is the degree of encouragement that the student got," says Liebman.
"I am very encouraged by the chutzpah, the gutsiness of it, to simply ask the question and follow up on it," Liebman says. "It's a wonderful, wonderful thing."
Take any introductory chemistry course and you're guaranteed to learn that carbon, by nature of the number of electrons circling its nucleus, is capable of forming four bonds with other elements, forming basic organic chemicals like carbon dioxide, ethanol, and methane. Under very rare circumstances, however, an unusual form of carbon called a "hypercarbon" can occur, and this can, theoretically, form more than four bonds. In the 1950s, scientists showed it could sometimes form five bonds, and in 2016, a German team showed in a celebrated paper that it could form six. Wang's work, showing that seven bonds are theoretically possible, wowed even Moritz Malischewski, Ph.D., of the Free University of Berlin, who co-authored the 2016 paper.
"Even for a chemist that has prepared a molecule containing hexacoordinated carbon the possible existence of a heptacoordinated carbon atom is fascinating," he tells Inverse in an email. "It is truly exceptional that a high school student is reading about very recent chemistry research and wants to get involved and perform research on his own."
Wang did the work on his own after being challenged by Rahman, an organic chemist by training, during a high school chemistry lesson. "I asked the students, is it possible that it can make more than six?" Rahman, who presented Malischewski's paper as a springboard, told Inverse in a previous interview. Taking up the challenge, Wang fiddled around with the VASP atom modeling program, which he'd learned to use with the help of a mentor and online manuals, and presented his calculations to Rahman. With the help of Bin Wang, a physical chemist, the team got the paper published in a peer-reviewed international journal. George, who was a junior at the time he made the calculations, got top billing on the paper.
What made his work all the more remarkable was the fact that it came out of Oklahoma, a state with a notoriously abysmal education system that only recently ended a massive teacher's strike, meant to protest the lack of funding and resources available to teachers. "We have congressmen, senators, who don't believe in science," Rahman told Inverse, explaining that Wang's example underscored the need for better support for teachers, who students in turn rely on for intellectual support.
Liebman, whose interest in chemistry long predated the beginning of his career in the 1970s, emphatically supports the need for better mentorship in the sciences. "Good mentoring is rather rare," he says, applauding Rahman's role in Wang's work. "To have someone who is not threatened but is rather encouraging — that is rather rare." Noting that the field of chemistry is traditionally "international and intercultural," he is encouraged that Wang and Rahman, by building on the work of the German team and George Andrew Olah, Ph.D., the Nobel Prize-winning chemist that pioneered hypercarbon chemistry, are continuing that legacy.
Arguably, the most important effect of Rahman's mentorship is not that Wang found the answer to the daring question posed in his high school class but that Wang was encouraged to pursue research that is by nature rebellious.
Theoretical chemistry — and the discipline of science as a whole — is built on the exploration of the unknown and the unimaginable. Perhaps Wang's willingness to do so can be chalked up to his youth; maybe it's just that he isn't as well acquainted with the "rules" of chemistry just yet. Whatever the case, his story illustrates why creativity is so highly valued in the field. "It is important that theoretical chemists propose interesting but hard-to-reach molecules and maybe, one day, they will be synthesized in the lab," says Malischewski.
"I know too many people, when confronted with the question that was asked — is it possible to have seven bonds — would have answered, 'Of course not!'" says Liebman. "This boy said, 'What's the big deal?'"