Elon Musk's Contractor Lockout Is the Latest Strange Boss Behavior at Tesla
"Time to scrub off the barnacles."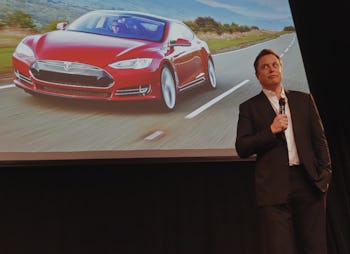 Flickr / jurvetson
Elon Musk seems to be adopting a cut-throat policy when it comes to contractors at Tesla's factories. In a company-wide email leaked on April 17, Musk wrote that in some cases contractors have been "worse than a drunken sloth," when it came to completing their duties. This message came in light of the recent pressure Tesla has been under after its Model 3 production shut down. Now the CEO is allegedly putting all contractors in the hot seat by beginning a sweeping round of firings.
In another email leaked by Electrek, Musk allegedly wrote that Tesla will sever ties with all contractors that are not personally vouched for by a Tesla employee. The previously leaked announcement revealed that Musk was disillusioned by the "Russian nesting doll of [contractors]" that has taken root in Tesla. This latest email falls in line with his prior statement and explains how he might curtail the number of contractors Tesla works with.
"By default, anyone who does not have a Tesla employee putting their reputation on the line for them will be denied access to our facilities and networks on Monday morning," states the notice. "This applies worldwide. Time to scrub off the barnacles."
Musk has a tendency to refer to contract workers as "barnacles." This came up in Tesla's odd first-quarter earnings call, in which he alluded to an upcoming crackdown on all contractors.
"The number of sort of third-party contracting companies that we're using has really gotten out of control," Musk said during the call. "We're going to scrub the barnacles on that front. It's pretty crazy. We've got barnacles on barnacles. So there's going to be a lot of barnacle removal."
Musk stated that this performance review will take place worldwide. Tesla employs over 30,000 workers across the globe and it is unclear how many people this round of firing will affect. Inverse reached out to Tesla for a comment, but the company did not reply by the time of publication.