Norway Just Mandated Zero-Emission Fjords to Lead Electric Boat Charge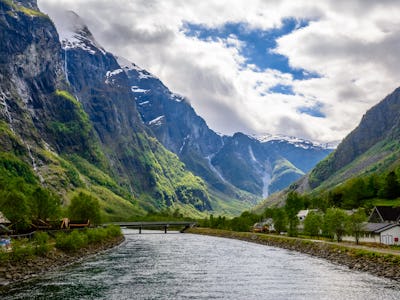 Flickr / dconvertini
How's this for efficient sea? The Norwegian parliament passed a resolution this week that calls on the government to transform its fjords into the world's first zero-emissions control area no later than 2026. The move will protect fjords like the Nærøyfjord pictured above, which is on the UNESCO's World Heritage List, and should encourage adoption of new technologies like electric boats — some of which have already set sail.
"For the first time in the world there is a requirement for emission-free sailing in the fjords and the ports," says leader of the environmental foundation ZERO, Marius Holm. "Norway has long been a world leader of emission-free ferries, driven by good political decisions on zero-emission requirements. Now we take a new step within the maritime green shift that has global reverberations. Nationally, this will provide valuable development of emission-free solutions to many tourist ships, we cut out major greenhouse gas emissions, and we prevent harmful local air pollution."
Norway's fjords receive thousands of visitors per year, as tourists flock to witness the landscapes for themselves. Geirangerfjord, another UNESCO-protected site, had over 300,000 cruise passengers last year. A 2006 study conducted by the Norwegian Institute of Aeronautics found that on days when three to five cruise ships tour the area, nitrogen dioxide levels reached 180 micrograms per cubic meter. That's about the same as cities like London and Barcelona, and incredibly close to the 200-microgram legal limit outlined by the European Union. Cruise visitors nationally rose from 200,000 in 2000 to nearly 700,000 — and it's estimated to reach two million by 2060.
The industry has already moved to fight this issue, with some zero-emission boats already taking to the sea. In March, operator The Fjords took delivery from Brødrene Aa of Future of the Fjords, a 138-foot carbon fiber catamaran powered by two 450-kilowatt electric motors. The ship, powered by a 1,800 kilowatt-hour battery, offers cruise speeds of 16 knots for 30 nautical miles before recharge. A 131-foot glass fiber Power Dock will sit in the water at one end and charge the boat with a 2.4 megawatt-hour battery pack linked to the grid. From the middle of May, it will start making around 700 trips per year between Flåm and Gudvangen. The design even resembles Oslo's opera house:
It's not the only all-electric ferry in town. Ampere, which entered operation in May 2015, was Norway's first all-electric ferry. The boat uses a lithium-ion battery of 1,000 kilowatt-hours to power two 450-kilowatt motors, charged during the 10 minutes between passenger switches. It makes 34 trips per day of around 20 minutes each, regularly making the 3.5-mile journey across the Sognefjord. Its operators found the ferry cut costs by 80 percent and emissions by 95 percent, and shipbuilder Fjellstrand received 53 more orders.
The parliament's decision was warmly received by representatives from the industry. Per Sævik, CEO of route operator Havila Holdings AS, said that his company "welcomes this decision," and it expects to set sail with emissions-free cruise ships as soon as 2021. Hege Økland, CEO of NCE Maritime CleanTech, said the decision "can ensure our industry's position in this area, so that Norwegian business is strengthened, jobs are created and that we can contribute to good solutions globally."