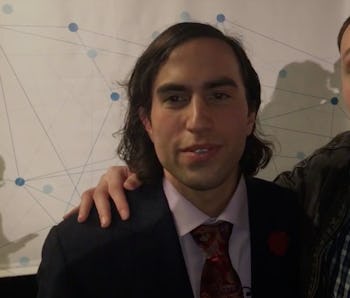 Culture
Biohacker Aaron Traywick Found Dead in Sensory Deprivation Tank
Traywick ran a biomedical company and was known for experimenting on himself.
Facebook
Aaron Traywick, the biohacker known for injecting himself with a self-made herpes medication, was found dead in a spa in Washington, D.C. on Sunday.
Traywick, 28, was discovered by staff at Soulex Float Spa in a sensory deprivation tank, according to BuzzFeed News. Police are investigating, but do not suspect foul play. An autopsy report has not yet been released.
Who Was Aaron Traywick?
In 2016, Traywick became CEO of Ascendance Biomedical, a small but very controversial biomedical company. Ascendance built its business ethos on eschewing U.S. government and industry regulatory guidelines in the hopes of getting treatments for viruses like HIV and herpes to the public faster.
Traywick grabbed headlines for making himself a guinea pig for these new and experimental treatments. In February, Traywick injected himself with an Ascendance-brewed herpes vaccine on Facebook Live at the body hacking convention BDYHAX in Austin. During the filmed panel event, he took his pants off and injected his thigh with a syringe on stage. You can watch it here, if you're interested.
Conflict Within Ascendance
On top of flirting with breaking U.S. law by working on non-F.D.A. approved gene therapies, Ascendance appeared to be fraught with turmoil from inside its own ranks of biohackers and transhumanists. Later in February and following the Austin event, Gizmodo ran a story detailing how Traywick, facing conflict with biohackers working in an Ascendance-funded lab in Florida, had locked himself inside the lab alone for several hours, eventually dumping some of the biohackers' equipment outside the front door. The following night, several of the lab workers and other individuals who worked for Ascendance went on Facebook Live to announce they wouldn't be working for Ascendance moving forward. "Traywick, they said, had put pressure on them to cut corners on science in order to make arbitrary deadlines set up to reveal new therapies to the press," Gizmodo wrote.
In early March, Traywick sued Gizmodo for libel, claiming their reporting on Ascendance and himself had been false and defamatory. According to Buzzfeed News, the case has since been dismissed.
Josiah Zayner, another high profile biohacker, had clashed with Traywick over his feelings that Traywick was publicly making unverified claims about Ascendance's ability to treat medical ailments. Following Traywick's death, however, Zayner told Buzzfeed News that he believes that Traywick's antics did shed some light on the issue of how much access patients have to experimental treatments.
"The first person who rode an airplane or a rocket or did something crazy — like, there's a place for those people," he said. "I hope people don't view Aaron and his life as a negative, because it did contribute and it did inspire people despite all the controversy."