'Star Wars' Admits Defeat to 'Avengers' and Marvel in the Sweetest Way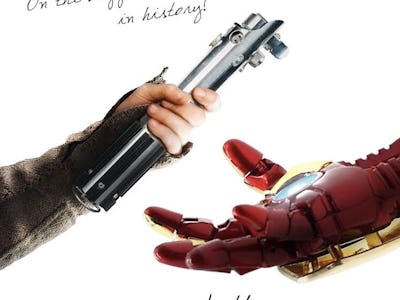 Twitter/Lucasfilm
It looks like Rey is handing over her lightsaber to someone who actually wants it. Lucasfilm has congratulated Marvel Studios for breaking an opening weekend box office record set by Star Wars: The Force Awakens in 2015. On Sunday, Avengers: Infinity War cleared 250 million at the box office, beating The Force Awakens record of 247 million for the best opening weekend of all time. And on Monday, Lucasfilm president Kathleen Kennedy posted her congratulations to Marvel with a very sweet image.
In the tweet, Rey is holding out the Skywalker family lightsaber, just like at the end of The Force Awakens. But now, instead of the hand of Luke Skywalker reaching out to take it, it's Iron Man! Luckily Rey didn't hand the lightsaber over to Thanos. We all know this guy doesn't need any more powerful objects that are linked to quasi-magic. Still, would Iron Man even want a lightsaber? Probably?
This gesture of congratulations relative to a movie breaking a huge record has a precedent at Lucasfilm. In 1998, James Cameron's Titanic broke box office records previously held by the original Star Wars and E.T.: The Extraterrestrial. And so, Lucasfilm sent congratulations to Cameron which depicted Star Wars characters fleeing a sinking Titanic, with a specific salutation from George Lucas. So, Kathleen Kennedy is basically upholding a Lucasfilm tradition with her nod to the Avengers.
Though one has to admit, the hand-painted art for the Titanic/Star Wars thing is a little more special than the photoshop of Rey's lightsaber and Iron Man's glove. Back in 1998, there was no Twitter, so this congratulation ran in a full-page ad of Variety.
Right now, it's unclear what the box office for Avengers: Infinity War will look like long-term, nor how the next Star Wars film, Solo will stack up in terms of earnings. -Infinity War is out now. Solo hits theaters on May 25.