Pamela Gidley's Cause of Death Is Confusingly Listed as "Fire" by Google
Google is not always correct.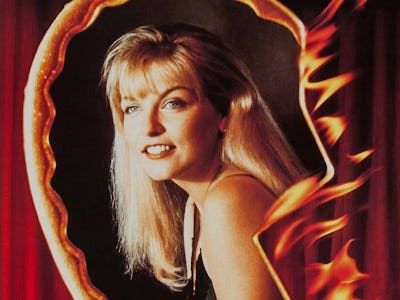 Google
As much praise Google gets for its search results accuracy over other search engines, there are the occasional examples of when one result doesn't make much sense. That was the case for one actress whose cause of death query returned a strange response from the search engine.
Pamela Gidley died on April 16. She's known for playing the role of Teresa Banks in the 1992 film Twin Peaks: Fire Walk with Me, which was a prequel to the Twin Peaks TV series that first aired in 1990. Her obituary says she "died peacefully in her home," but that's not what Google says.
A search for Gidley's cause of death results in simply "fire." One could assume that the reason for the connection between Gidley and "fire" is likely due to her name being associated with the name of the Twin Peaks film. Combined that with the term "death," and it could be that the Google algorithm incorrectly attributed this false cause of death to her.
This happens every so often for the popular search engine. Last week, Twitter users shared their search results of "india first pm," which mistakenly showed a picture of the current Prime Minister of India, Narendra Modi, instead of the actual first Prime Minister, Jawaharlal Nehru.
Another example is when earlier this year, people that searched for "nba founder" saw that apparently, the founder of the association was LaVar Ball, father to L.A. Lakers players, Lonzo Ball. TMZ reported Google recognized the error and did fix it since there is no actual founder of the NBA as the association started with multiple basketball teams owners coming together to form the basketball league in 1946.
While Google may not fix these search results errors all the time, the company is working to clean up some offensive queries that it automatically predicts.