The 7 Best Yodeling Walmart Kid Performances On the Internet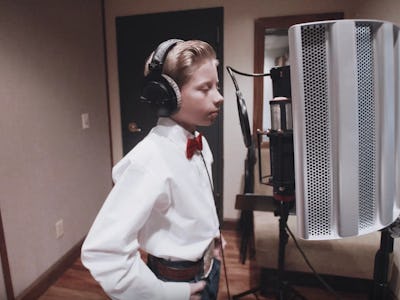 YouTube
Mason Ramsey, the cherubic, bow-tied 11-year-old who shot to viral fame in March, has managed to keep stay in our feeds for a month, with no sign it's coming to an end now that he's released his first official single. Known to the internet as the Yodeling Walmart Kid, Ramsey first gained notoriety when a video surfaced of him performing a pitch-perfect rendition of Hank Williams' "Lovesick Blues" in a local Illinois Walmart.
It wasn't Ramsey's first time at the rodeo, so to speak. The Golconda native has actually been performing professionally for years. Building off of his viral hype, he's landed some prestigious performances ever since.
Seeing as it feels like the nicest and most pure thing the internet has decided to popularize in a while, why not take a moment to cleanse your Kanye-Trump pallet and check out some of the most adorable Mason Ramsey crooning moments.
8. Mason Hits the Ellen Show, Part 1.
Within weeks of Walmart video fame, Ramsey appeared on the Ellen Show wearing a really cool shirt. Asked why he always sings at Walmart, Ramsey replied, "Because that's the only store we've got." When Ellen gives Ramsey the news that he'll perform at the Grand Ole Opry, try not to cry.
7. Mason Ramsey: "For My Fans."
Ramsey performs "I Saw the Light" by Hank Williams on a rock near some water. It's really nice.
6. Mason Vs. Coachella
Ramsey takes the stage at Coachella as a surprise thanks to DJ Whethan to sing an a cappella rendition of "Love Sick Blues." He sounds great, but the crowd is really loud. Although it seems like they're trying to sing along.
5. Mason Plays "Your Cheatin' Heart" at the Kentucky Opry
Back when he was nine, Ramsey played the Kentucky Opry with a full backing band. When asked why he started to sing Hank Williams, he says, "I started hearing grandpa in the garage playing Hank Williams music, and when I started talking I started to sing."
4. Jambalaya in a Shopping Cart
Before he got famous, Ramsey gives a shopping cart performance of "Jambalaya" and "Hey Good Lookin'." He's like human autotune, in the nicest possible way.
3. Mason Hits the Ellen Show, Part 2.
Ramsey talks about girls, Coachella, and performing at the Grand Ole Opry. "I've wanted to perform here since I was three," he says.
2. "Famous"
Ramsey's new single, "Famous," is pretty solid. Although it's a little weird to have an 11-year-old singing about the profoundness of love and purpose.
1. The Original Video
If you're not one of the millions of people who have watched this video of Ramsey singing in a Walmart, now is your chance.