Watch Yodeling Walmart Kid Mason Ramsey Return to 'Ellen' With New Music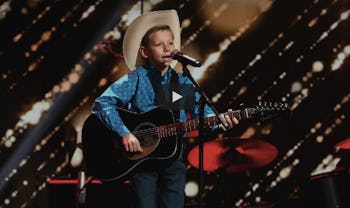 YouTube
The internet's biggest viral sensation is back with not only another Hank Williams cover, but a new song of his own. Mason Ramsey, aka Yodeling Walmart Kid, returned for another stint on The Ellen DeGeneres Show and a crop of new music.
Ramsey became an overnight sensation after a video of the 11-year-old's rendition of Hank Williams' "Lovesick Blues" went viral. The video of his highly-skilled yodeling was parodied and remixed dozens of times — even receiving a few famous hat tips — before landing him a spot on The Ellen DeGeneres Show. On Friday, Ramsey returned for a second performance on Ellen, this time singing Hank Williams' "Hey Good Lookin'" and sharing some big news.
Mason Ramsey fans can also check out the music video for his new single, "Famous."
After successful stints at the Grand Ole Opry and Coachella, Ramsey is ready to perform his own music. The yodeling tween has signed with Atlantic Records and Big Loud Records, Billboard reported Friday. His first single, "Famous," is a country song about being famous for love.
When Ramsey performed another acoustic rendition of Hank Williams on the show, Ellen presented him with a new white leather jacket, personalized with his name on the back. "Oh my gosh! Oh my gosh! Oh my gosh!" Ramsey squealed before screaming and shaking like an excited 11-year-old. In past interviews, he's shared that he is still in shock with his quick rise to fame.
Ellen also shared that Ramsey's next big performance is tonight at California's Stagecoach Festival, where he'll join headliners Florida Georgia Line. The outdoor country music festival is one of the largest in the state and includes acts like Garth Brooks, Delta Rae, and other big names on this year's roster.
While it's unclear when his album will drop, his first single suggests that his 15 minutes of fame aren't over just yet.