Snapchat Spectacles 2 Have Arrived: Everything You Need to Know
Higher price, more features.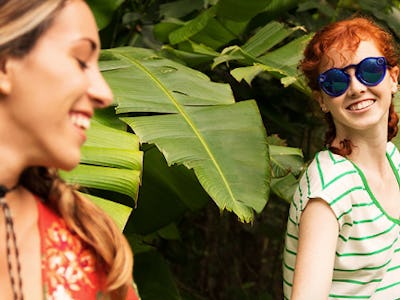 Snap Inc.
Snap Inc. isn't giving up on Spectacles.
Despite losing over $40 million trying to sell the original version of futuristic glasses last year after misjudging demand, Snap Inc. unveiled the second version on Thursday morning.
"Spectacles are now more comfortable to wear with a smaller profile, and they're water resistant — so you can bring them to the beach, or your next pool party!" Snap's site says. "Tap the button to record video with new and improved audio, and now, you can press and hold to take a photo! Snaps you capture will transfer to Snapchat up to four times faster, and always in HD."
The original Spectacles were often criticized for their inability to record video. Snap fixed this issue with its new video feature, which allows users to record a 10-second or 30-second clips with a click. Snap Inc. is also positioning Spectacles 2 as a summer-ready gadget, equipped with a water-resistant feature safe for the pool or beach. On the hardware's aesthetic side, Snap Inc. tells Inverse that its second-round Spectacles have a more refined look and feel. Snapchatters can choose from three versatile colors, onyx, ruby, or sapphire, with the choice choose between two Lens shades. American customers can also order their Spectacles with a prescription and polarized Lenses, courtesy of a partnership with Lensabl. The new Spectacles will cost $149.99, which is $20 more than version 1, in the U.S.
The smart frames Spectacles are now available for purchase on Spectacles.com in the following countries in the U.S. Canada, the U.K., and France. They're set to be released in 13 more European countries on May 3.
While releasing a new version of Spectacles may seem like an odd move for the popular photo-sharing app, Snap Inc. (which bills itself as a camera company) wants its users to "get comfortable" with capturing content through Spectacles. The company says there are currently 3.5 billion Snaps captured by phone on the app daily, and Spectacles are a great opportunity for growth as the social platform continues to evolve.