The New Gmail Has 5 Game-Changing Features That Nudge Email Forward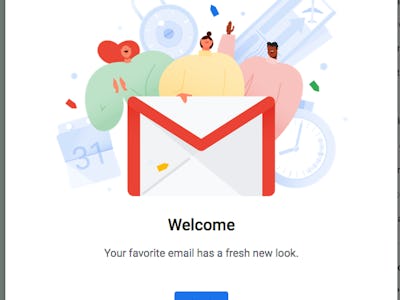 Google
Let's face it: email in 2018 is one of the most boring (read: professional!) forms of communication. With the latest version of Gmail, released on Wednesday, the client seems packed with features to help make emailing a little less sleep-inducing. At least from what we can tell through first impressions.
Sure, it's not as exciting as replying to an ephemeral Snap or thirsty Instagram Story, but at the end of the day email is a necessary evil. So it seems Gmail has decided to embrace this and offer new features fit for 2018 emailers.
The updated design is reminiscent of Google's other popular email client, the Inbox app, which already boasts some of the new Gmail features. These include easily accessible attachments and toggle organization — which are way more exciting than they sound.
You can enable the update, which rolled out to personal accounts globally, by clicking on your Gmail Settings and then "Try the new Gmail." Without further adieu, let's take a stroll down digital mail lane and see what the new Gmail is offering, shall we?
5. Open Emails Quicker
Admit it, one of the most irritating aspects of receiving emails is having to fish out attached documents, images, links, memes, etc. Enter: the new Gmail quick-attachment opening feature. Basically, this tool lets you head straight to your Amazon tracking number without even bothering to click on the email itself.
4. Nudge Nudge!
You know how you get an email and swear you'll circle back to reply to it, but end up completely forgetting to? Same. Gmail is aiming to fix this national workplace nightmare with its new nudge feature. The redesign will have Gmail "nudge" you "to follow up and respond to messages with quick reminders that appear next to your email messages to help make sure nothing slips through the cracks." Your impatient contacts will thank you.
3. Smart Reply Added to Desktop
At this point, Gmail's Smart Reply feature has gained somewhat of a cult following among loyal users. Smart Reply was previously only available on the Gmail mobile app, but now this nifty feature is also available on the new Gmail desktop client. So you can quickly reply back with "Sounds good!" as you run off to your next meeting.
2. Added Security & Sensitive Content Tools
With all the talk about privacy and security lately (looking at you, Facebook), it's only natural for Google to add a safety feature or two to its latest email design update. This will include several new security perks such as "confidential mode," which forces you to go through two-factor authentication for specific sensitive emails. You'll also be able to remove the option to forward, copy, download or print messages on emails of your choice. Finally, can even have emails "expire" after a specific amount of time. Hooray, (hopefully) no more accidental mass forwards!
1. Smarter Notifications
At this point, it's clear that the new Gmail wants you to receive and send emails in a smarter way, so it makes sense that part of the redesign includes algorithmic "high-priority" notifications. These alerts "can notify you of important messages to help you stay focused without interruption." The best part? At some point Gmail will detect annoying offers and newsletters you don't want to open and suggest you unsubscribe from them and save your sanity.