New Apple Patents Reveal Designs for Earbuds and Apple Watch Clasps
The company has been granted a number of new patents.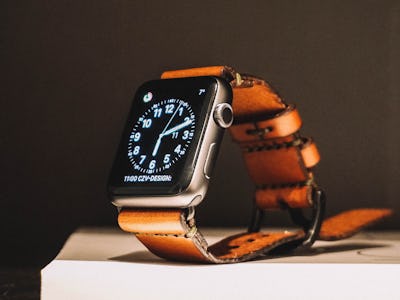 Unsplash / Jens Kreuter
Apple is working on the future of mobile. The United States Patents and Trademark Office published 52 granted patents for the company on Tuesday, many of which concern its Apple Watch and headphone ranges. The design sketches show how the company is considering the small sizes of the products to offer something that impresses.
The patents, reported by Patently Apple, focus on improving the company's accessories that are designed to work in conjunction with the iPhone. A filing titled "Headphone eartips with internal support components for inner eartip bodies" describes new headphone assembly designed with ear canals in mind, with the patent aiming for a setup where "the eartip subassembly may ensure an effective sound path while also at least partially conforming to various ear canal geometries." Another patent titled "Clasp mechanism for wrist-worn devices" describes methods for fastening an Apple Watch to the wrist — mechanisms that have stayed relatively similar since the smartwatch was introduced in 2014.
While Apple is already expected to make some changes to its AirPod wireless headphones, these patents suggest changes further than expected. The company could reshape the internal components to improve sound quality, improving on current designs where a driver produces noise and funnels it through an eartip to the user's canals. Current rumors do not mention such changes coming to the next release of AirPods, with attention instead focused on [an always-on "Hey Siri"(https://www.inverse.com/article/41535-apple-homepod-airpods) and wireless charging.
The Apple Watch patents cover the clasping mechanism used to tighten the band around the wearer's wrist. While Apple has offered a number of bands since the watch's launch on sale in 2015, including a link bracelet and a sports band, the company has so far avoided making changes to the connection mechanism to maintain compatibility. These patents suggest Apple is unlikely to radically alter these mechanisms any time soon. Apple's third-generation Apple Watch, launched late last year, brought cellular connectivity and suggested the company's focus on new ways to use the watch without an iPhone connected.
All eyes are on Apple's annual Worldwide Developers' Conference, scheduled to start June 4 this year, where the company traditionally starts with a keynote speech that outlines the coming software updates for the year. In recent years, Apple has used the event to also outline new hardware updates.
The $999 iPhone X may dominate headlines with its cutting-edge internal processors, but Apple is also focusing its attention on its smaller devlices.