Westworld' Season 2: Karl Strand Actor Gustaf Skarsgård's 'It' Connection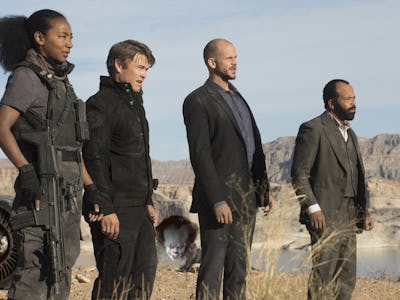 HBO/Warner Bros
Westworld reopened on Sunday night, and things are not going especially well at the immersive Wild West theme park, on account of all the robot hosts who revolted and violently murdered all the human visitors. As seen in the premiere, the company that owns Westworld, Delos, sent some fixers in to regain control. One of those men was Karl Strand, a suit who is cool and ruthless in the field. Of all the new characters in the season premiere, Karl is the most interesting, and he's played by a pretty cool actor.
Gustaf Skarsgård is one of a few new faces fans will see on Westworld for its sophomore season, and he already made an impression as Karl in Episode 1. As Karl, Skarsgård is charismatic enough, but you can tell there's a dangerous driving force motivating him. He has a take-no-prisoners attitude when it comes to protecting Delos's assets — literally. Karl had all of the captures, "non-violent" host shot and "killed," execution style.
While speaking to Interview Magazine, Skarsgård described his character as a "man with a military background, who you call in to solve shit, get shit done," thought this being Westworld, he wasn't at liberty to say anything else.
Skarsgård's got an interesting background himself. The Swedish actor, perhaps best known for playing Floki in the History Channel's Vikings series, is one of actor Stellan Skarsgård's sons. His older brother Alexander won an Emmy for his role in Big Little Lies, while his younger brother Bill scared the crap out of moviegoers as Pennywise the Dancing Clown in It.
Given how terrifying Alexander and Bill were as an abusive husband and a child-eating clown, respectively, it's probably safe to be a little wary of Karl on Westworld.
Westworld airs on Sunday nights at 9 p.m. Eastern on HBO.