5 Biggest Predictions Ahead of Alphabet Earnings Call
The company is set to report its first quarter 2018 earnings.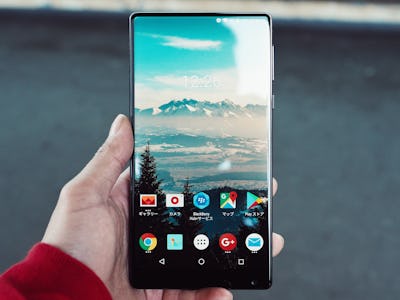 Unsplash / Suika Ibuki
Alphabet is set to report its earnings for the first quarter of 2018 on Monday, and it could chart the future for the technology giant. The parent company of Google covers a number of projects like autonomous car firm Waymo, video streaming service YouTube, and smart home developer Nest. While search engines and advertising make up a large portion of the company's revenue, these areas could have wide-reaching social effects in the years to come.
Here are the five big nuggets of news that could make the headlines:
The Cambridge Analytica Scandal
The fallout from Facebook's privacy scandal, which saw up to 87 million users' data harvested as part of a political advertising push, could spill over into other tech firms. Bill Gribbons, director of the Information Design and Corporate Communication program at Bentley University in Waltham, Massachusetts, told Inverse earlier this month that similar scandals will happen "over and over" unless the industry acts.
"Based on numerous discussions with investors, we believe the market may be underappreciating the regulatory risk facing Alphabet," RBC Capital Markets analyst Mark Mahaney wrote in a recent note. The company may look to quell fears around regulation during the call.
YouTube's Advertising Problem
A CNN investigation found last week that ads from over 300 companies and organizations ran on content covering neo-Nazis, white nationalists and North Korean propaganda. YouTube channels with over 1,000 subscribers and 4,000 watch hours over the past year can apply to earn revenue from ads, but ads against such content goes against the company's internal policies.
"YouTube's bottom line hasn't been hit," Nicole Perrin, a senior analyst at eMarketer that specializes in marketing, told the outlet. "If brands want to make sure this stops, the only way for that to happen is for them to stop spending [on YouTube] until it's fixed."
Alphabet doesn't normally break out YouTube numbers, but it could take the opportunity to make a statement about the issue.
Nest is Changing
Alphabet announced in February that its Nest smart home division will move into the Google hardware team to avoid overlap. Founded by former Apple engineers Tony Fadell and Matt Rogers in 2010, Nest was acquired by Google for $3.2 billion in 2014.
The change is important for two reasons. The first is the "other bets" category will likely see a dip in revenue due to the organizational movements. The second is the move could indicate how much revenue Nest brings in by looking at the revenue figure changes between "other bets" and Google's "other" revenue category. This could show how Fadell's vision of a smart-connected home is connecting with consumers.
Waymo's Big Strides
Alphabet's autonomous car division has made big progress, and the earnings report could offer an opportunity to highlight its success. The team released a video last month of the Chrysler Pacifica Hybrid minivans ferrying people around the Phoenix area as part of an "Early Rider" program that attracted 20,000 participants.
In February, the company announced it has completed five million miles of autonomous driving on public roads, plus 2.7 billion virtual miles in the past year alone.
With Tesla working to deliver its autonomous driving system for existing cars, and Uber seeking to bring the technology to its ride-hailing service, Alphabet may tout Waymo's wins as part of the call.
Google Continues to Take on Apple
The other products featured in Google's "other" category show how the company is taking on Apple in the integrated smartphone space. The Pixel lineup of smartphones is joined by services like Google Play and could offerings, creating an all-in-one mobile package that helps take on Apple in the space. A strong showing in this area would be good news for these efforts.
"With that said, our consensus estimate file is calling for Google other revenues to hit $4.32 billion, which would mark about 39.5 percent growth from the year-ago period," Zacks writer Benjamin Rains wrote in a preview analysis. "Last quarter, this unit surged by 37.9 percent to reach $4.69 billion. Investors should note that the expected sequential downturn is likely due to increased holiday period sales."