Vans' Rumored NASA Sneakers Have the Internet All About 'Lunarcore'
by Catie Keck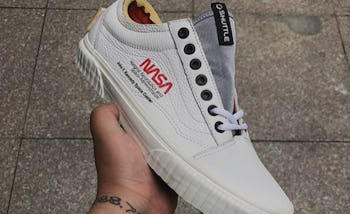 Highsnobiety/Instagram
The National Aeronautics and Space Administration (NASA) is reportedly teaming up with Vans to release some fresh as fuck Old Skool kicks, and the internet is 100 percent on board.
Pictures of the sneakers were originally posted to Instagram by the account dirtymoney823 in what appears to be a since-deleted post. Streetwear blog Highsnobiety, however, snagged the photos and shared them on its own Instagram account. The website reported this week that Vans had confirmed the Old Skool collaboration with NASA is "official." Neither NASA nor Vans immediately returned Inverse's requests for comment.
The pair is pictured with white pebbled leather, gray tongues that feature the words "mission" and "shuttle," NASA's old school logo in red, and a John F. Kennedy Space Center reference on the shoe's exterior. An American flag patch features prominently at the shoe's heel. Everyone here at Inverse is fully ready to cop the rumored collaboration, and many on Reddit appear to feel the same.
"That's a fantastic collaboration. I'm gonna have to get a pair of the Old Skools and probably the backpack," wrote on Redditor on a thread about the collaboration. "Someone's been researching that L U N A R C O R E palette," commented another. Lunarcore, for the uninitiated, is described by CptHacks on the r/malefashionadvice subreddit as "clothing that use non-conventional materials and patterns to create outfits that look like they could be worn in space or the future."
Yet another Redditor asked what we've all been wondering: "Hey I don't want to sound like an idiot, but where can I look to buy? Will it be sold out instantly online? And what retailers are gonna be selling these items?" A rumored release date of October 1 surfaced in reports online, though neither Vans nor NASA appears to have publicly confirmed any such release.
Let the imminent style takeover of "Lunarcore" commence.