Barbara Bush Isn't Dead, And Internet Death Hoaxes Are Very Much Alive
The internet strikes again.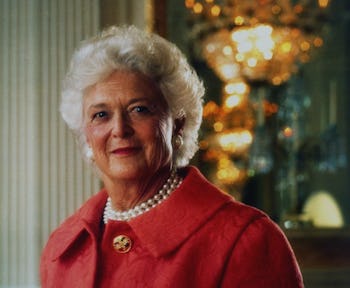 Following reports that former First Lady Barbara Bush is in failing health, one website has posted a fraudulent story claiming that Bush died in her sleep on Sunday evening. While the Bush family has confirmed that she will not seek medical treatment for a variety of health problems, she is still very much alive and spending time with family in her Houston home, according to multiple new outlets.
In spite of numerous reports confirming Bush's non-deceased status, the website CNN Breaking News published an article purporting to quote a Bush family spokesperson confirming her death. The report appears to be an effort to capture clicks from people who are trying to get news about Bush's health from the real CNN.
As CNN's Sam Feist pointed out, this is a very clear, and shoddy, case of imitation. The domain name used by the fake website was "breaking-cnn.com," and the Google listing for the website is "CNN: Home."
A cursory glance at the website demonstrates that it has no affiliation with CNN, and is largely populated by other false stories, including more celebrity death hoaxes. You can find a link to a cached version of the website here.
On the suggested articles bar to the side of the story, a piece about Will Ferrell dying in a car accident is listed below the Barbara Bush story. Will Ferrell, it's worth stating, is alive. The site also published an article claiming that singer Toni Braxton died in April 2017. Toni Braxton is also alive.
Other past victims of internet death hoaxes include polarizing science educator Bill Nye, Celine Dion, and Jeff Goldblum, whose mother unfortunately fell prey to the false reports.
Death hoaxes usually pick up steam on social media, where misinformation can spread further and faster than factual stories.