Snapchat Update: App Launches Lens Studio With 7 New Templates
Anyone can create and submit a custom Lens.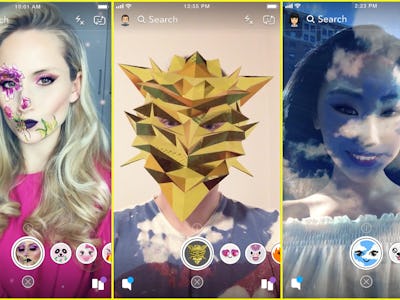 Snap Inc.
As promised, Snapchat is ramping up its Lens Studio as part of its overall redesign this year.
Snap Inc. announced on Tuesday the addition of new features to its Lens Studio, aimed at giving creators more AR resources to play with. The new Lens Studio is said to have seven new face templates, with integrated GIPHY stickers and a dedicated Creator Program. The update will also feature community Lens Stories in the Discover section of the app to make the content easy to find. The Lens Story will consist of a collection of public Snaps submitted to the "Our Story" tab and show submitted community Lens creations.
Snapchat's new features signal a more aggressive strategy to attract creators and foster a community of influencers on the app. The suite of 3D templates will include the following new ones: Face Paint, Photo, Distort, Trigger, 2D Objects, 3D Objects and Baseball Cap. The Lens page will also integrate GIPHY's vast library GIFs, which Lens creators will be able to search and use.
Lens Studio was initially released back in December, and the extended new features will be available to all Snapchatters to create and submit custom Lenses. The features addition announcement is the latest in a series of design updates Snapchat has made in the past few months, including a major overhaul of the app's interface design. This month, the photo-sharing app also rolled out Group Video Chat and Mentions to its users.
The new features will be available within the app as part of Snapchat's new iOS and Android update, which is out today.
To grab one of the Lenses yourself, you can swipe up on the Snap to unlock it in the app.