'Infinity War' Directors Are Being Cagey About the Film's Post-Credit Scene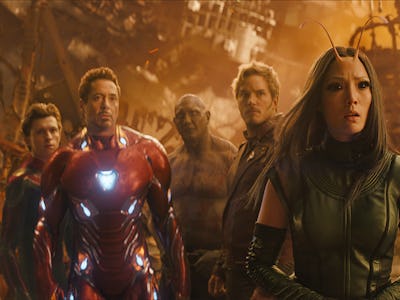 Marvel
It's a routine at this point. When a Marvel movie ends, fans stick around until the very, very end of the movie, after all of the credits have rolled. If you left early, you would have missed moments like Samuel L. Jackson inviting Iron Man to be part of the Avengers Initiative, or out first-ever look at Thanos at the end of Avengers. The upcoming Infinity War will almost certainly follow this trend, but the directors are being pretty cagey about it.
In an interview with Radio Times as part of the Infinity War press junket, directors Joe and Anthony Russo were asked if they considered bucking the MCU trend and not including post-credit scenes, since Infinity War flows into Avengers 4 to some extent. The pair didn't exactly give a concrete answer, presumably because they're so spoiler-averse.
"It's hard to comment on that again, because we don't want to speak to the experience too specifically," Anthony Russo said.
"It's certainly something you consider, but it's like [Anthony] said, we wrote a letter begging the fans not to spoil the movie for each other, so we don't want to spoil it for them," Joe Russo added, referencing the #ThanosDemandsYourSilence letter they shared earlier this month.
Some outlets are reporting the exchange as proof that the Russo Brothers seriously considered not having post-credit scenes, but when watching the interview, Joe Russo's comments seem much more like he's brushing aside the interview question and being nice. Considering not having post-credits scenes and seriously considering not having post credits scenes are two different things.
In any case, though, the Russos' comments do appear to be confirmation that Infinity War will have post-credit scenes, which isn't a surprise in the slightest.
Avengers: Infinity War opens on April 27.