NASA Just Deleted Its Best Tweet About the TESS Spacecraft and I Am Furious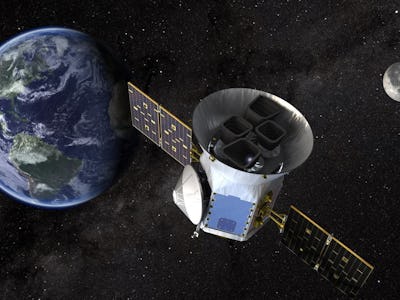 NASA
NASA's Kennedy Space Center has gone full-on "graphic design is my passion," as evidenced by recently deleted posts on its Twitter and Instagram. The complete non-scandal has rocked tens of people online.
On Monday, KSC tweeted a lovely photo of NASA's Transiting Exoplanet Survey Satellite (TESS) ahead of its 6:32 p.m. Eastern launch time. In anticipation of liftoff, NASA tweeted the following (now-screen capped) image, which is honestly better than any Shakespeare work ever written.
The unabashed use of lime green Comic Sans is truly inspiring — even David Lynchian in execution. Sadly, shortly after I tweeted about it, NASA KSC deleted the post without explanation and did not respond to my desperate tweet to investigate the ordeal. All that's left now is the ghost of a once-great tweet.
It seems other space enthusiasts noticed the tweet, too. Some raised questions about NASA's decision to use bright green Comic Sans.
While NASA KSC definitely deleted the post on Twitter, curiously enough, the exact same post was still live on its Instagram until around 2:35 p.m. Eastern. The last we checked, it was being mercilessly roasted before being taken down. Again, no explanation from KSC has been issued.
Thankfully, we have a screenshot to preserve the post's honorable legacy.
Despite the backlash, KSC doesn't seem to be backing down from its colorful choice of fonts. This was posted on Instagram just hours after the Comic Sans post. It's almost as good.
Hopefully, KSC won't let Comic Sans-gate dull the shine on their big day. The spacecraft will be NASA's next great exoplanet hunter, continuing what the Kepler mission began. Over the course of two years, TESS will investigate an area of sky that contains about 20 million stars. This could aid astronomers and astrobiologists looking for habitable exoplanets.
"We're on this scenic tour of the whole sky, and in some ways, we have no idea what we will see," Natalia Guerrero, the deputy manager of TESS Objects of Interest, previously told Inverse in a statement. "It's like we're making a treasure map: Here are all these cool things. Now, go after them."
Maybe the internet wasn't ready for KSC's artistic genius, but so what? Artists are never appreciated in their time. To the mysterious social media manager(s) at KSC, thank you for your service.