Deadpool Crashes 'The Walking Dead' Season 8 Finale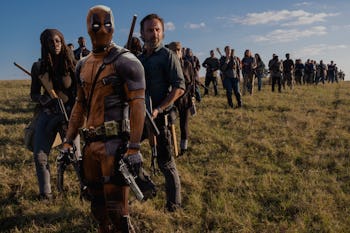 20th Century Fox, AMC
As Negan and Rick met on the battlefield, there was Deadpool, stuffing popcorn into his mouth. For bloodthirsty pop culture buffs, the dream came true when the worlds of Marvel and The Walking Dead collided when Deadpool crashed the Season 8 finale and Season 4 premiere of AMC's The Walking Dead and Fear the Walking Dead.
On Sunday, during the cable TV broadcasts of The Walking Dead, Fear the Walking Dead, and the live Talking Dead post-show recaps with Chris Hardwick, Deadpool showed up in interstitials to promote Deadpool 2.
In "The Walking Deadpool," Deadpool addresses Walking Dead viewers to stay tuned for Deadpool 2 trailers. "Don't you just love it when two of your favorite things come together?" Deadpool says, eating popcorn. "Stay tuned for 'The Walking Deadpool.'"
Really, "The Walking Deadpool" was just the previously-released trailers cut up in three parts, but they aired throughout AMC's Walking Dead extravaganza.
There aren't too many new scenes or gags shown in "The Walking Deadpool," except the end-trailer gag now has Deadpool dragging man buns, or as he calls it, "the millennial mullet." Dopinder, the good sport, just nods along. Also, Weasel (T.J. Miller… yeah, we know) jokes that "It's time to get back on LinkedIn." Is "assassination" a legitimate skill?
In Deadpool 2, releasing May 18, Ryan Reynolds returns as the scarlet mercenary Wade Wilson, aka Deadpool, who must stop Cable (Josh Brolin), a cyborg mutant from the future from killing an innocent young mutant. Deadpool assembles his own squad of militant mutants to stop Cable, a group Deadpool names the "X-Force."
Deadpool 2 will be released in theaters on May 18.