'Avengers 4' Title Is Such a Big Secret, Even the Cast Has No Idea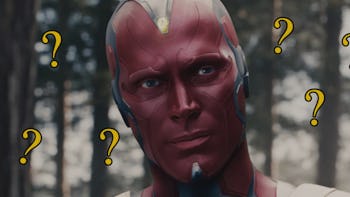 Marvel
Sure, Avengers: Infinity War is about to hit theaters, but after that, Marvel fans will have to look forward to the next Avengers movie, the mysterious Avengers 4. Because the real title would be an Infinity War spoiler, Marvel hasn't revealed the official name yet, and that level of secrecy extends to the heroes in the movie.
In an interview with Digital Spy in the run-up to the Infinity War premiere, Elizabeth Olsen (Scarlet Witch) and Paul Bettany (Vision) said that they didn't even know the name of the movie while they were filming it. On the set of the film, which shot back-to-back with Infinity War, the pair explained they were in the dark.
"Someone just told us that they were going to release [the name] after this movie," Olsen said, though she's not sure exactly when that will happen.
"I have no idea what it is. I've been calling it Avengers 4," she continued.
The level of secrecy extends beyond just witholding the name, though. The script for the film was on lockdown and, according to the actors, full of lies and red herrings.
"It's not quite true that we don't know the story," Bettany, throwing some cold water on the idea that the MCU actors don't actually know what's going to happen. That said, there are lots of false details and other security measures in play.
"You read the script, there are some fake pieces," he said.
"We can choose to sit in a locked private room with an iPad that has the full script – which also has a bunch of lies in it – because they won't print the full script," Olsen explained.
"But if you don't want to do that, they give you your pages that pertain to your character, and then they orally explain to you what's happening in the rest of the movie.," she continued. "So we do know what happens as much as they have given us… unless they're lying to us, and planting strange seeds."
Avengers: Infinity War opens on April 27. Maybe after that, we'll learn the title of Avengers 4, which is scheduled to open on May 3, 2019.