Art Bell, Paranormal Conspiracy Theorist and Radio Host, Dies at 72
Start your conspiracy engines.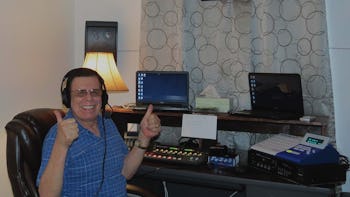 Art Bell
Art Bell, radio personality and the original host of the paranormal-themed radio show Coast to Coast AM, died at his home in Pahrump, Nevada, on Friday at the age of 72. For someone who regularly spoke about the occult on his show, it could be considered almost poetic that he died on Friday the 13th.
Born in 1945, Bell started his career as a pirate radio operator when he was in the U.S. Air Force. When he served overseas, he stayed in Okinawa, Japan, where he once broadcasted for 116 straight hours. He returned to the U.S. and started working in radio; in particular, talk radio. It was in 1983 that Bell began working the overnight shift at KDWN in Las Vegas.
Then, in 1988, he changed the format of the show from political topics to conspiracy theories and the paranormal. At his height during the mid-Nineties, Bell had the most listened to late-night talk radio show in the U.S. More than 500 stations carried Coast to Coast AM with more than 15 people listening in on a nightly basis. He retired as the show's host multiple times for various reasons and would return after a brief time. He officially retired from the show on July 1, 2007, but would return as an occasional guest host. He started other shows in the following years, but they lasted for only a few months.
"Art Bell was something our business had few, if any, of. He was an original," tweeted Phil Hendrie, radio personality and voice actor for TV shows such as Futurama, King of the Hill, and Rick and Morty. "He did everything the book said you shouldn't do. 40 minute phone interviews, led segments with commercials, took the paranormal & UFOlogists seriously and gave them a forum. Rest In Peace Art Bell."
The Nye County Sheriff's Office made the announcement of Bell's death at his home on its Facebook page. An autopsy will take place in the coming days to determine the cause of death.
As a well-known figure in the paranormal world, Bell made multiple appearances in various sci-fi media. He acted in the TV series Dark Skies and Millennium, and his voice was heard in the 2006 video game Prey, a game about a Native American abducted by aliens.