Bayern Munich: Science Explains Why Good Coaches Help Teams Win
Bayern doesn't always share its secrets, though.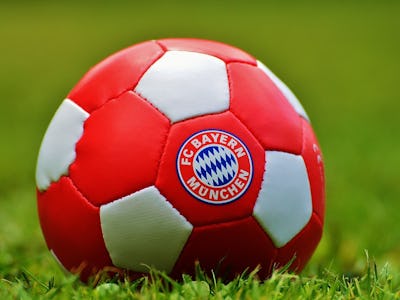 German soccer team Bayern Munich shocked the sports world when it announced that Eintracht Frankfurt's Niko Kovac will become the club's new manager in July. Bayern is known for hiring big-name coaches like Louis van Gaal, Pep Guardiola, and other Champions League winners, making Kovac appear small-time. This could, however, be a whole new strategy for the team in how it coaches.
On Friday, Bayern Munich confirmed the rumors that Kovac was slated to become the team's next coach, replacing interim club manager Jupp Heynckes. Kovac, who has been coaching the much smaller team Eintracht Frankfurt since 2016, signed a three-year contract with Bayern. Sports experts wondered if this suggests a shift in Bayern's priorities, since he's not a big-name coach like past managers, but Bayern adheres to a specific science when it comes to coaching.
Bayern's coaching strategy starts early, as evident by their youth development program. The FC Bayern Munich Junior Team, founded in 1905, is an elite group of recruited teenagers who are thoroughly trained in the Bayern system and go on to play professionally, either in Munich or in other leagues. The kids are trained in a strict syllabus of technical development but are known to be elusive about coaching techniques.
Researchers have tried to identify which aspects of Bayern's coaching are most effective by changing the way they measure success in soccer. After reviewing 380 professional league soccer matches, scientists at Disney Research found a new way to quantify effectiveness in soccer coaching outside of other sports. Rather than tracking player positions, for which data is scarce, scientists used "ball action data," or time-coded information that observes everything that is happening to the ball. This was more helpful to sports scientists than simply keeping score since soccer scores tend to be low. Their findings were presented at the Conference on Knowledge Discovery and Data Mining (KDD 2013) in Chicago.
The elusive science behind soccer coaching is also being explored in virtual reality. Researchers at Bielefeld University in Germany are also working to establish a quantifiable system for coaching soccer, in order to improve the effectiveness of physical training in VR.
Professional soccer teams increasingly use quantitative methods to analyze performance, and Bayern is no exception, though coaches tend to be elusive with team strategy. Before Kovac became a coach, he played for Bayern from 2001 to 2003. While he may not have the accolades of former coaches, he is familiar with the Bayern system of coaching, and therefore it might not be as much of a departure from the team's applied science as thought.