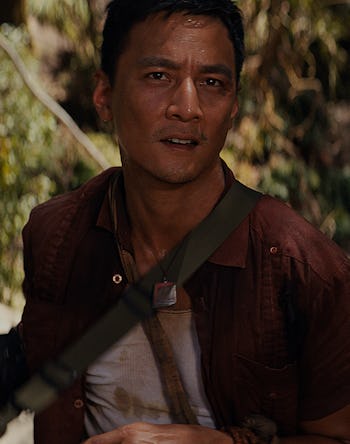 Entertainment
They Don't Know Kung Fu: Why Asian Actors are Ditching Martial Arts
How blockbusters are ditching racist stereotypes.
Warner Bros.
Asian movie stars have been stereotyped as kung fu masters for ages, but there's a quiet revolution underway in Hollywood that might see them finally leave kung fu behind. All one has to do is look at two recent blockbusters.
"In Tomb Raider, Daniel Wu stars opposite Alicia Vikander's Lara Croft. He's a drunk, roughneck captain named Lu Ren leading Lara through dangerous waters."
In the ensemble of Pacific Rim Uprising, Lily Ji is Mei Lin Gao, the eldest in a cadet squad of monster fighters. She is "definitely not a stereotypical Asian character," Ji said in an interview ahead of the film's release. "All I would hear growing up was laundry owner, prostitute, tai chi player. I was like, man. Can we just do more? We're all different. I'm so glad [Mei Lin] is not that. She's not typically sexy. She has brains, she's driven, she's interesting. I wanted to bring independence."
Neither of these Asian actors are kung fu fighters. Instead, they are characters, however long or short their screen time. For Wu, this was an intentional choice, because he actually does know kung fu. While working on Tomb Raider, Wu avoided using his knowledge of wushu kung fu in his portrayal of Ren.
"He's grittier, different than anything I've done in Asia," Wu tells Inverse. "When we got there [to the set] the action coordinator was like, 'You wanna do any kung fu?' I said, 'No, no.' The character is not that. He may be a bar room brawler, been in a few fights, but he is not a martial artist."
Wu puts it another way: "It would be kind of racially insensitive to assume he's a martial artist."
Proficiency with kung fu wasn't always considered a racist stereotype, but for a long time, it has been. In the early Twenties, [[[Sessue Hayakawa was one of Hollywood's first — and highest-paid — heartthrobs, in movies like The Cheat (1915) and The Temple of Dusk (1918).
But his career came to a halt when "talkies" made Hayakawa's accent obvious, which was poorly timed with rising anti-Asian prejudice in the United State in the United State in the United State in the United States. From then on, Asian characters became sidekicks, servants, or mustached villains. Many times, they weren't even Asian actors; check out Academy Award winner Marlon Brando as "Sakini" in 1956's The Teahouse of the August Moon and gaze in horror.
Then, Bruce Lee came out of nowhere, in 1966's The Green Hornet on TV. A human wrecking ball who demolished stereotypes with his fists, Bruce Lee became an icon revered after his untimely death in 1973. But just as the star of Enter the Dragon broke stereotypes in portraying a physically imposing Asian male, he left behind new ones, too. "Kung Fu Masters" became a new archetype for the still-rare instances of Asian characters in American pop culture.
Sessue Hayakawa, in the July 1918 issue of Moving Picture World. In his heyday, Hayakawa was one of Hollywood's highest-paid actors and a celebrated sex symbol who embodied an image of exotic masculinity rarely seen today.
Historically, heroic Asian characters like Lu Ren have been martial artists, such as Jet Li in The Expendables, Lucy Liu in Charlie's Angels, Lee Byung-hun in G.I. Joe, Louis Ozawa Changchien in Predators, Jay Chou as Kato in The Green Hornet (a role made famous by Bruce Lee). The list goes on. For non-Asian actors, it's never a concern if their characters know martial arts or not. But for Wu's Lu Ren, it's almost revelatory, as a small but significant step in diverse representation: that an Asian character can kick ass without kung fu.
"Yeah, it's a bit [of a] stereotype," Chinese actress Lily Ji tells Inverse. "I hope Hollywood can show Asian characters in different aspects apart from martial arts masters. We obviously can do more."
As Mei Lin Gao, Ji pilots the war machine (called "Jaegers"), Saber Athena. To prepare for the role, Ji trained extensively in martial arts, but only to physically acquaint herself to the punch and kick movements of a rock 'em, sock 'em robot. It's a gray area, but generally speaking, Mei Lin Gao is no "kung fu girl."
"She's definitely not passive or awkward. I really hate that they portray us as passive. I didn't want her to be like that," she says. "I portrayed her as this proactive, determined, 'Strive for better' type. She's also [like], 'If you boys can do this, I can do this too.'"
Wu and Ji know their presence in their films came from "conscious efforts" to encourage Chinese box office revenue. In concert with the rise of a middle class, economists predict China will eclipse the United States as the largest movie market in the world, if it isn't already already. In 2017, Hollywood films like The Fate of the Furious, Kong: Skull Island, and Transformers: The Last Knight made up 46 percent out of $8.6 billion grossed in mainland China. Hollywood is doing all it can to encourage Chinese ticket buyers, not the least of which includes featuring more Chinese characters. But results have been mixed. Most Asians still occupy the background as set extras, and few get to help save the day. An exclusive scene shot for China, in 2013's Iron Man 3 where Tony Stark is saved by Chinese doctors, was criticized by native audiences as an obvious effort at pandering.
"We have the biggest box office at the moment, so I think people [are] really trying to get in," Ji tells Inverse. Both sides of the Pacific "are trying to figure out how to do this but maintain our identity and our stories."
There will be more characters like Lu Ren, Mei Lin, and Rose in 2018's Hollywood action movies: Queens rapper Awkwafina will star in the female-led Ocean's Eleven reboot Ocean's Eight in June; Randall Park will play FBI Agent Jimmy Woo in Ant-Man and the Wasp this July; Korean actress Claudia Kim will be in Fantastic Beasts: The Crimes of Grindelwald; and Ludi Lin will play Murk, a merman/army general, in the DC superhero film Aquaman this December. This is the small but emerging class of Asian characters that, somehow, are allowed to be more than the "kung fu man/woman" in their respective ensembles.
"It's very early," Ji adds, before offering up a solution: Create characters, not set dressing.
"I remember [working on] Transformers 4, that was my first one after graduation. It was kind of stereotyped," she says. "Few [Chinese] symbols in [the background], nothing to do with the story. I think humanity and stories are the most important thing for the success of a film. Focus on story and the essence of human beings. That would be the thing to do."
While Hollywood studios have a financial incentive to attract Asian audiences, it will take more than just casting Asian actors in supporting bits. "It does come from financial interest in creating a bigger audience for China," Wu says. "But I think it's a good opportunity, and really run with it and create a three dimensional character for an Asian character that we haven't really seen on the big screen. In America, at least."