Get a Five-Year Subscription to a Hyper-Secure Password Manager
RoboForm Everywhere is an award-winning password manager, and now it's cheaper than ever.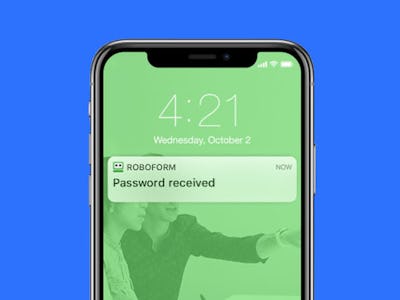 Stack Commerce
More and more, we're learning that keeping our information safe and secure is 1. Extremely important, and 2. Harder than anticipated. It's a scary world of surveillance and stealing out there, and you need to protect yourself. The first step for many is using a reliable password manager.
RoboForm Everywhere is nothing if not reliable. It uses AES 256-bit encryption and powerful password auditing to keep your most private data just that: private. It can be used across all your devices, and even generates and stores its own impossible-to-guess passwords so you need never keep a post-it with your email login details on it ever again.
Roboform is one of the most lauded password managers on the market. It was a 2017 TopTenReviews Excellence Award winner, and maintains a rating above four stars on both the Google Play store and the App Store. And you know how hard it is to please those guys.
Right now, there's a wild discount going on for a five year subscription to Roboform Everywhere, which offers seamless use and protection across all the devices you own. Normally $99.75, Inverse readers can head here right now and get 70 percent off, and grab Roboform Everywhere for just $29.