Amazon Just Slashed the Price for the Ring Video Doorbell
The gadget famously rejected on 'Shark Tank' officially closes the deal with Amazon.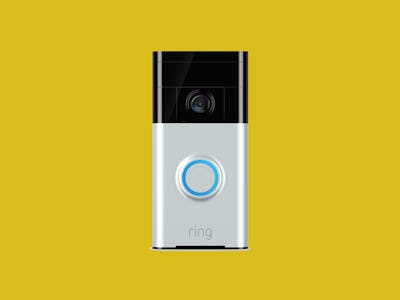 Ring
Amazon announced on Thursday morning it had officially closed the deal to acquire video doorbell company Ring, and as has become a tradition for Jeff Bezos' company, it cut prices to signal the $1 billion takeover.
The doorbell gadget initially was being sold for $199 by Ring, but Amazon announced it had cut the price to $100. Compare that to Google's Nest doorbell ($229). The rest of Ring's doorbell products are staying the same price. The cost-cutting is similar to how Amazon cut prices at Whole Foods after it acquired the grocery chain.
The Ring Video Doorbell is about the size of a smartphone and it sticks onto your house next to your door. The camera quality is 720p and it records at 30 frames per second. You can accept or deny video calls from whoever's at the door from an app. If you accept the call, you can use the microphone to speak with who is at the door. When you ring the doorbell, you get a push notification that shows the video of whoever's at the front door. Easy.
"Our mission to reduce crime in neighborhoods has been at the core of everything we do at Ring," said Jamie Siminoff, CEO and Chief Inventor of Ring, in a statement. "Together with Amazon, we will accelerate our mission dramatically by connecting more neighbors globally and making our security devices and systems more affordable and accessible. The entire Ring team is excited to continue working hard to create products and services that bring real benefits to people's lives and build safer communities for all our neighbors."
Siminoff's marketing strategy seems to focus on people who are afraid of crime and want to make their homes safer, but there's a more practical use, too. If you have a package from, say, Amazon, being delivered, you want to make sure you're not met with a "sorry we missed you" slip on your front door. The Ring doorbell enables you to speak with the delivery agent if you need a minute to make it to the front door.
During the early days of his company, Siminoff appeared on Season 5 of Shark Tank in 2013. The inventor presented Doorbot as the doorbell of the future, an innovation that would both provide security and the ability to never unwittingly answer the door for an unwanted guest again. "It's like Caller ID for your doorbell," Siminoff said.
Here's the pitch:
Here's the rejection:
"I remember after that Shark Tank episode literally being in tears," Siminoff said on the CNBC show Make It in November 2017. "I needed the money, we were out of money at the time."
Things would get better for Siminoff after the Shark Tank failure, though.
Richard Branson invested in the Ring doorbell after seeing it on a home during vacation in spring 2015. He initially wanted to buy a bunch for his friends for Christmas, but Siminoff urged him to invest. Branson took part in a $28 million funding round for the little doorbell, announced in August 2015, that took Ring's valuation to $60 million. In January 2017, another funding round closed and Ring was worth $209 million. By May 2017, its valuation was $460 million, the Los Angeles Times reported.
Amazon also invested in Ring, albeit later than Branson, in 2016, via its own Alexa Fund, which backs entrepreneurial ventures the use bleeding-edge voice technology.
As you'd expect, if you have an Amazon Alexa-powered Echo Show or Fire TV, the Ring Doorbell video will be beamed straight to your screen or TV. With Ring, you can answer the door from your TV. However your door won't automatically open. You'll still have to get off the couch for that.
What's this deal mean for people who have the Amazon Blink home security camera system, or the Amazon Cloud Cam? In the near-term, nothing. Amazon announced Thursday that those operations will continue to operate as normal and there will be no interruption in service.