Yes, Even Mark Zuckerberg's Facebook Data Was Stolen by Cambridge Analytica
The CEO himself had his info compromised in the scandal.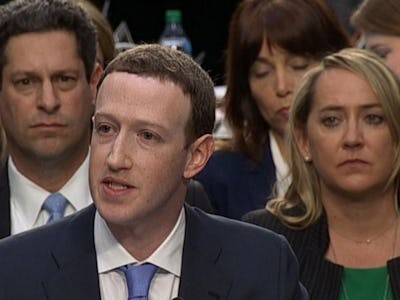 C-SPAN
Mark Zuckerberg appeared before the House Energy & Commerce Committee on Wednesday for the second of his two testimony hearings. In answering questions about the now infamous Cambridge Analytica data breach, the Facebook CEO revealed that he too was affected.
The young billionaire was questioned by Congress this week regarding Facebook's data breach, in which information of an estimated 87 million Facebook profiles was leaked to Cambridge Analytica. During questioning by Rep. Anna Eschoo (D-CA), Zuckerberg confirmed his own data was compromised.
"Was your data included in the data sold to malicious third parties?" Eshoo asked. "Your personal data?" Zuckerberg replied that it had been.
While this reveal may be a drop in the bucket compared to tougher that Zuckerberg has received the past two days from members of Congress, it's telling that the CEO himself has a personal stake in the data breach. Tuesday's hearing, entitled "Facebook, Social Media Privacy, and the Use and Abuse of Data," saw a large group of senators from the judiciary and commerce committees interrogate Zuckerberg on Facebook issues, including leaking info to Russia and even alleging anti-conservative leanings.
The pattern continued Wednesday with more questions about how Facebook has handled everything from hate speech and misinformation to privacy leaks.
While it's unclear what specific suggestions lawmakers will make to regulate Facebook, Zuckerberg's personal involvement in the privacy debate could help push regulations forward.