Instagram Is Testing "Nametags," Stealing Yet Another Snapchat Feature
It's similar to Snap's Snapcode.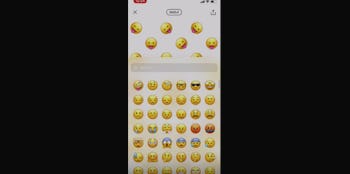 Instagram
Instagram will be releasing yet another feature seemingly cloned from Snapchat.
The feature that Instagram is currently testing, dubbed Nametags, will allow Instagrammers to create a custom scannable tag by designing a pattern of emojis. The feature boasts an option to use a selfie image for creating a custom Instagram Nametag, which is sure to get heavy usage from its young demographic.
Users familiar with Snapchat's scan code "Snapcode" will have no problem understanding the purpose of this tool. After all, Snapchat launched Snapcode way back in January 2015, allowing users to add friends on the app with the use of their phone's camera.
The copycat design also comes at a time when Instagram continues to dominate the photo-sharing social scene. For its turn, Snapchat recently overhauled its entire app to attract a broader demographic, which may have backfired. It also recently released Mentions and Group Video Chat, to offer users even more ways to interact with friends on the app.
Instagram also announced an "@mention" sticker Tuesda. "After you've taken a photo or video in your stories camera, open the stickers tray, tap the @mention sticker, start typing the name of the account you want to mention and select from the options that appear," the company's blog states. "You can then rotate, scale and place your sticker wherever you'd like."
At this rate, Instagram and Snapchat will continue to imitate each other's most popular features, as they've done for years, in order to lure users away from one another.