An Eating King Was Dethroned at Coney Island
Eight-time champion Joey Chestnut couldn't ketchup.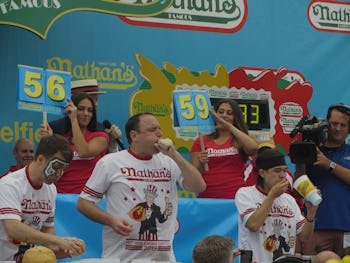 When his name is called at Coney Island on July 4th, champion hot dog eater Joey Chestnut walks across the stage to a deafening roar of cheers. He is the hot dog eating regent presiding over his tubed-meat-shaped kingdom, and his subjects bask in his gastrointestinal glory. Last year, he human-trash-compacted 61 hot dogs to claim his eighth straight Nathan's hot dog eating title. Before the last glorious bite, he proposed to his girlfriend. In 2013, he set a world record by scarfing 69 dogs and buns.
But at the end of this year's ten-minute competition, he'd find himself on the losing end of the biggest upset any competitive eater has ever seen.
Hours earlier, the intersection of Brooklyn's Surf and Stillwell Avenues was a midsummer Mardis Gras. Thousands gathered — shoved in tight, like so much ground meat in a snug edible casing — to watch men and women partake in the annual rite of speed, piling their throats with as many Nathan's Famous hot dogs as possible.
An ear-splitting voice constantly boomed over the contest's main stage, which is usually set up against Coney Island's flagship Nathan's restaurant about ten feet above the hundreds of spectators gathered below. It belonged to the mythical man MC-ing the festivities: George Shea, the straw boater-wearing dandy, sporting a crisp blue blazer and fresh khakis. His notorious Nathan's routine involves spewing factoids and semi-insults at the crowd in a twisted mix of stand-up comic and carnival barker. Shea and his brother are the main minds behind the stomachs. The pair commercialized competitive eating in 1997 when they founded Major League Eating, the official governing body that sanctions — and more importantly, publicizes — contests like the one held at Nathan's.
First up was the women's table, with fifteen contestants and all eyes on two: reigning champion Miki Sudo and Sonya "The Black Widow" Thomas, who holds the women's record of 45 hot dogs.
As they ate, each broke two hot dogs in half and shoved them into their mouths, dunking the buns in yellow cups filled with water to soften the bread before shoving those down too. Sudo and Thomas' numbers crept up, past 10, past 15. Sudo started pulling away. As Shea implored the crowd to count down the final 10 seconds, Sudo scarfed her 38th dog. Thomas had pounded a merely astonishing 31.
It wouldn't be the only upset of the day.
During the hour before the men's competition, things got weird in an outtakes-from-The Voice sort of way.
A Brooklyn-based choir sang hymns. A K-Pop group strutted and lip-synched to a thumping dance track. Eater extraordinaire Eric "Badlands" Booker came out to rap multiple times, including a version of "Gangster's Paradise" that features lyrics about competitive eating ("I'm the type of homie little G's wanna be like / On my feet in the night, eating franks in the streetlight / Been spending most my life living in a frankster's paradise"). Through all of it, two people dressed as Nathan's hot dogs danced onstage.
Then: Eaters. The crowd gave them warriors' welcomes as Shea spouted their eating accomplishments. Booker holds the glazed doughnut record at 49, Yasir Salem formerly held the cannoli record with 31, "Crazy Legs" Conti holds the buffet record at 5.5 pounds. Again, though, this is expected to be a two-mouth race between Chestnut and his protege, 23-year-old Matt "The Megatoad" Stonie.
When the gluttony commenced, Stonie, all 130 pounds of him, stayed neck-and-neck with Chestnut. But as the seconds ticked down, a deafening scream rose from the crowd — Stonie took a late lead and held it, winning 62 dogs to 60. Chestnut lost, long live the new king.
The circus scarcely paused. The two were immediately swarmed by media. A group of anti-meat animal rights protesters who had embedded themselves quietly in the crowd for the entire competition raised signs reading "Can Taste Justify the Killing?" and were immediately whisked away by the NYPD while the remaining crowd screamed "Hot dogs! Hot Dogs! U-S-A! U-S-A!" Tasteful.
I later met up with Salem, who had matched his personal best with 30 dogs. "It's wonderful," he said of the upset. "They've both been dominating lately, but at some point Joey is gonna have to pass the torch. I don't think we've seen the last of Joey at all."
The student had bested the master. In the annals of gourmandizing there had never been a bigger moment than July 4th, 2015, when a titan fell from his peak and I witnessed the impossible. Perhaps Salem was right, and a torch was passed. This much we do know: Gas absolutely would be.