Chadwick Boseman's T'Challa Makes Hilarious Cameo on SNL
T'Challa tries his hand at "Black Jeopardy."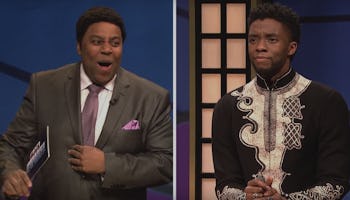 YouTube
After a three-week break, Saturday Night Live returned with host Chadwick Boseman. As expected, there were plenty of Black Panther references throughout the show.
The big hit of the night was the return of "Black Jeopardy" with Boseman as T'Challa competing on the show against Leslie Jones and Chris Redd with Keenan Thompson playing host. Life in Wakanda is a little different than in the U.S. so T'Challa's responses didn't match up with Jones and Redd's. He does, however, eventually get the hang of the game during the "White People" category.
Jokes about Black Panther started during Boseman's monologue. After throwing some shade on the fact that he was hosting SNL two months after the movie came out, he also mentioned some of the bad ideas pitched to him for the show, including a T'Challa-hosted talk show called "Wake Up, Wakanda" and a skit where Black Panther has sex with Leslie Jones, which Boseman said was pitched by Jones. Later in the monologue, Thompson showed up dressed as Panthro from the Thundercats and declared he was the original "Black Panther-styled superhero who has space age technology." To end his monologue, Boseman showed off his James Brown-inspired dance moves, which he used in the movie Get on Up.
Another skit called "Wakanda Forever" showed Boseman, Jones, and Redd coming out of a showing of Black Panther and giving each other the now famous Wakanda Salute. Then Pete Davidson and Beck Bennet remark how they loved the movie and show off their attempt at the gesture, which does not go over well.
Next for Saturday Night Live is the return of John Mulaney on April 14. This is the first time Mulaney hosts SNL, but he was a writer on the show for several year with occasional appearances on "Weekend Update."