You Can Interact With 'Dragon Ball' IRL Soon for North America Tour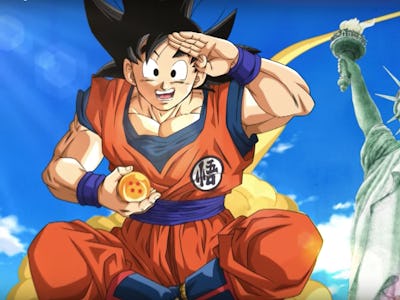 YouTube.com/Bandai
Loyal fans of the anime franchise Dragon Ball will soon get a close and personal experience with a tour embarking all across North America starting this July at San Diego Comic-Con. The experience, simply titled the "Dragon Ball North America Tour," will be a toy-focused series with exclusive figures available at the stops, but it's still Dragon Ball IRL.
On Wednesday, a number of brands including Bandai, Toei, Shueisha Publishing, and toy distributor Bluefin announced the Dragon Ball North America Tour 2018. Consisting of seven stops, evoking the seven Dragon Balls, the tour will have exclusive figures for sale and photo ops, including a life-sized Nimbus Cloud, fulfilling the dream of every kid who watched Dragon Ball Z on Toonami back in the day. The tour will begin at Comic-Con in San Diego before making its way to six more undisclosed stops, including one in Canada. The promotional art hints at one stop in New York City.
Further details of the tour remain scarce. While the attraction will no doubt beckon Dragon Ball fans to meet up and hang out, the tour doesn't appear to be a series of full-fledged conventions. It will, however, be a chance for collectors to snatch exclusives, which will inevitably end up on eBay at a high markup. A preview stop at Chicago's C2E2 from April 6-8 will have an exclusive "Goku Black" from Bandai Tamashii Nations.
While the Dragon Ball franchise has always been one of the most recognized around the world, the last few years have seen a particular resurgence in popularity. Due in part because of generational nostalgia as well as a revival series, Dragon Ball Super, fans have enjoyed new ways of interacting with the franchise outside of rewatching episodes on DVD. A big 2018 tour is visible evidence of the franchise's enduring familiarity.
This year saw the finale of Dragon Ball Super, and the future of the series remains unknown. A tour in North America is a pretty unique way to gauge further interest abroad.
Dragon Ball North American Tour 2018 will begin in July at San Diego Comic-Con.