Snapchat Users Appear Skeptical About New Mentions and Group Video Chat Rollout
Not everyone seems excited about the new updates.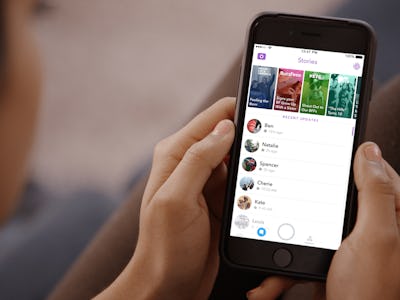 Snapchat
Snapchat announced today that it will start rolling out new two features on its app: Group Video Chat and Mentions. The new features will be available to all Snapchatters in the next few weeks on both the iOS and Android apps.
While group video and mentions are still not accessible to all users, Snapchatters didn't miss a beat by letting the company know their thoughts on the release. Those who replied to the news don't seem too excited about trying them out, while others are concerned about the overwhelming aspect of being in a giant group video chat.
Some tweets were just plain snarky, referencing the recent unpopular overhaul the Snapchat app has gone through.
On the other hand, other users questioned whether rival Instagram will copy these updates the way it duplicated Snapchat's signature Story feature.
The features addition announcement is the latest in a series of design updates Snapchat has made in the past few months, including the aforementioned redesign of the app's interface. After receiving the app update, users can start a group video call by tapping the video icon in an existing group chat. According to the company, users can have up to 16 friends simultaneously in a video chat, with each receiving a notification to join the call. If you somehow have even more friends who want to join a call, you can have up to 32 friends in a group voice chat, which can be initiated by tapping the phone icon.
"Our community is making millions of calls on Snapchat every day, and we're excited to introduce Group Video Chat as a new way for Snapchatters to turn any group conversation into a real-time hangout at the tap of a button," a Snap Inc. spokesperson told Inverse.
Users can utilize the app's famed Lenses, including the puking rainbows or dog faces, during group video sessions. Your squad can also toggle back and forth between video and voice. This update has been a long time coming, as Snapchat introduced Video and Voice Chat back in 2016, the company's spokesperson went on to say.
Snap Inc. is also introducing "mentions" as part of the same update, allowing users to tag their friends' handles, similarly to Instagram Stories' feature. You can tag friends in your Story posts by typing "@" and then enter their username. This will notify the users you've tagged them, and also allow your Story viewers to click on the tagged friend's profile. This marks a major step in the app's design because until now, there was no way for users to tag anyone on Snapchat.
Snapchat confirms the group video chat and mentions features will roll out to users globally in the coming weeks.