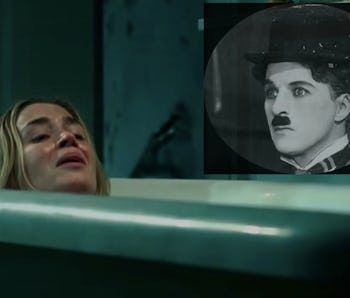 Entertainment
'A Quiet Place' Screenwriters Explain How Charlie Chaplin Inspired the Film
Hat tip to silent cinema!
Paramount
John Krasinski's A Quiet Place continues to drum up buzz and critical acclaim ahead of its official release on Friday, and fans were given an even closer look at the noise-hating monsters in the final trailer, which dropped Monday. But for those curious about the horror flick's origins, its screenwriters have revealed an unlikely source of inspiration: Charlie Chaplin.
In a co-bylined article published by IndieWire on Monday, original A Quiet Place screenwriters Scott Beck and Bryan Woods addressed the film's unexpected and seemingly overnight success, writing that the film's origins had roots in silent cinema. That appreciation for the genre laid the groundwork for the premise of A Quiet Place: "If they hear you, they hunt you."
"The origins of A Quiet Place date back to our college years, as we became obsessed with the silent cinema of Charlie Chaplin, F.W. Murnau, Buster Keaton, and Jacques Tati," they write. "These filmmakers were masters of visual storytelling, needing not one line of dialogue to communicate character, emotion, or intent. Cinema had never felt so pure. But having been raised on a healthy dose of Alien, Jaws, and dozens of Hitchcock films, we wondered if you could fold the silent visual techniques of the early 20th century into the context of a modern-day genre film. And thus, A Quiet Place was born."
Interestingly, Beck and Woods write they originally thought the idea for the film "might come across as a gimmick," adding that at times, "we would pitch the logline to producers or friends, but they would stare back with a blank look, clearly indicating the idea was a dud." It wasn't until 2014, they say, that the film concept took on a new life as a "metaphor for the breakdown of family communication."
"The script began writing itself, first as a 15-page proof of concept to help us test this crazy idea," they write. "The short contained all of the basic movements featured in the final film: the setup, the characters, the creature, the family dynamics, the pregnancy, and the finale beat-for-beat." That pregnancy scene in particular — one that sees Emily Blunt going into labor in a bathtub as a monster creeps up a hallway behind her — is one that has generated significant hype, both for Blunt's performance and its ability to make viewers squirm in their seats.
Fans need only wait a few more days before A Quiet Place hits theaters April 6. In the meantime, however, horror junkies will have to get by with mere glimpses of whatever the hell this thing is.