All the Celebs That Are — And Aren't — Actually Running for Congress
Cynthia Nixon is not the only one in the race.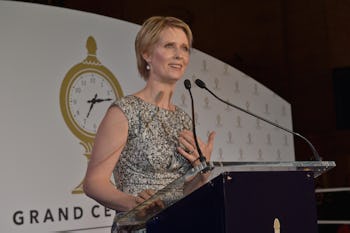 Flickr / MTAPhotos
The United States is going to the polls on November 6, with midterm elections set to serve as a bellwether of Donald Trump's presidency. While most will be following along to see if the Republicans can maintain control of both houses of Congress, a number of celebrities are considering their odds to run for election.
While a Senate run from Kid Rock or a House run from Miss America may seem unexpected, it was only two years ago that Trump shocked pundits by winning the race for the nation's highest office with no prior political or military experience. Here are seven candidates that could make the jump from silver screen to Congress seat:
Cynthia Nixon
The 51-year-old actor who played Miranda on Sex and the City announced last month that she would run for governor of New York as a Democrat in the gubernatorial election. Facing off against Democrat incumbent Andrew Cuomo, Nixon would be the first woman and LGBT governor of the state:
Mallory Hagan
The Miss America winner from 2013 is running as a Democrat for Alabama's 3rd Congressional district, facing off against Republican Mike Rogers currently serving his eighth term. Hagan described her campaign to Mic as less of an anti-Trump campaign and more one that's focused on "the people of Alabama and being a representation of them, and being a role model and leader to young people."
Stacy Dash
The star of hit teen movie Clueless announced in February that she is considering a run. The 51-year-old Republican said on Monday, however, that she would withdraw from the race in California's 44th Congressional district, citing "the overall bitterness surrounding our political process, participating in the rigors of campaigning, and holding elected office [that] would be detrimental to the health and well-being of my family."
Diane Neal
The former star of Law and Order: Special Victims Unit, who played assistant district attorney Casey Novak for four seasons, announced last month plans to run for New York's 19th congressional district in the midterm elections as an independent candidate:
"Diane's never had political aspirations," her CrowdPAC website states. "She hasn't cared about fame or money. But she's decided she can't sit idly by while our republic and the world it is a part of devolves into venomous factions. Our constitution — and the health of our democracy — depends on active participation for it to work."
Chelsea Manning
While many would class her as more of an activist than a traditional celebrity, it's undeniable that Chelsea Manning's bid to run as a Democratic hopeful for a Senate seat in Maryland, announced January 14, has attracted widespread attention.
Manning faces an uphill struggle, though: A Goucher College poll in February gave Manning just 17 points compared to incumbent Democrat Ben Cardin, who leads with 67 points.
Kid Rock
The singer, real name Robert Ritchie, publicly floated the idea of launching a Republican bid against Michigan Senator Debbie Stabenow, a Democrat. While initially producing "Kid Rock for Senate" t-shirts and stirring up rumors, he claimed his team knew it wasn't happening from a fairly early stage. Rock denied the plans in classic fashion.
"Fuck no, I'm not running for Senate," he said on Howard Stern's SiriusXM radio show in October 2017. "Are you fucking kidding me? Who couldn't figure that out? I'm releasing a new album. I'm going on tour, too. Are you fucking shitting me?"
Caitlyn Jenner
The Olympic gold medalist and transgender activist said in July 2017 that she's considered a run for the Senate. While initially supportive of president Donald Trump, Jenner told radio host John Catsimatidis on AM 970 in New York that she "would look for a senatorial run" after Trump's decisions to roll back transgender student protections enacted under Obama.
Jenner previously told The Daily Beast in April 2017 that she was considering a run in her home state of California when Democrat Dianne Feinstein retires. Feinstein, the oldest senator at 84, announced her intention to run again this year back in October 2017, suggesting Jenner may have put her bid to take over on the backburner.