Donald Glover's 'Deadpool' Script Isn't Even the Biggest 'Deadpool' Leak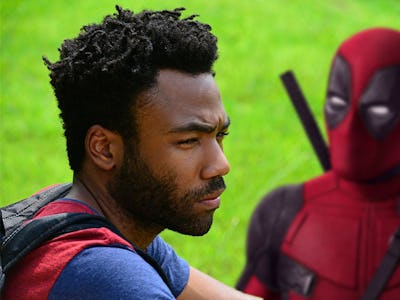 FX/Fox
Shortly after news broke that Donald Glover's highly anticipated Deadpool animated series wouldn't be happening, the writer/actor shared a hilarious and biting taste of what the scrapped show would've been like. The 15-page script that Glover tweeted on Wednesday wasn't "leaked," as some outlets originally reported, because even a casual reading of the very topical and meta script reveals that it was clearly something Glover wrote in the wake of the cancelation. However, it does bring to mind another, very real leak in the Merc With a Mouth's history.
As Digg reminds us, the whole reason for the current Deadpool craze stems from a 2014 leak of test footage for what would become the Ryan Reynolds-led Deadpool film two years later. The film, Reynolds's passion-project, had been in development hell for a long time, but the enthusiastic response to the leaked test footage gave Deadpool the final push it needed to get the green light, and the rest is history.
"Nothing stops the "Merc With a Mouth" from viciously dunking on his foes," Mathew Olson writes for Digg. "So far, Hollywood business-as-usual has a bad track record of stopping Deadpool-attached creators from doing the same."
After Deadpool hit theaters, Reynolds appeared on The Tonight Show where he revealed that he was one of four people who could have leaked the footage, though he didn't say if he was or was not the culprit. The other suspects were director Tim Miller and screenwriters Paul Wernick and Rhett Reese.
The Deadpool movie leak definitely helped the 2016 film get made, though it remains to be seen if Glover's "leaked" faux-script will get the ball rolling on the axed Deadpool cartoon. It seems unlikely, especially because the script seemed like it might've burned a few bridges, but as with the test footage leak, it has people talking about the Merc With a Mouth.
Deadpool 2 hits theaters on May 18, 2018.