'Jessica Jones' Bonus Video Reveals Fun Facts About a Marvel Character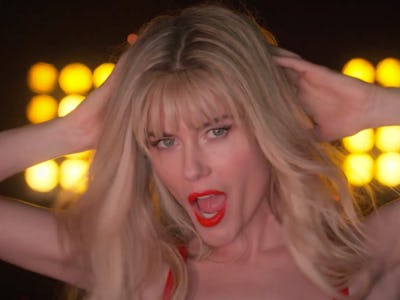 Marvel Netflix
During the second season of Jessica Jones, viewers learned more about Trish's pre-radio host life as celebrity Patsy. The show included some horrific details about her relationship with a big name in the film industry and explored her life growing up with Jessica further. We were also given a peek into her stint as a pop star in a flashback to an argument between sisters Jessica and Trish during the premiere of the music video for Trish's track "I Want Your Cray Cray." On Thursday, the Jessica Jones Twitter account shared the full video.
While viewers of the Netflix series got a quick look at the Marvel character's hit song, now we can all feast our eyes on the full video. The tweet from the official Jessica Jones account reads, "Don't say I never gave you anything." Plus, there's the added bonus of "fun facts" about Trish's career, family and back-up dancers throughout the music video.
The fun facts range from basic information to silly personal details about Trish. It starts off pretty simple with Trish's one big film role and an explanation that "cray cray" is slang for crazy, but it gets wacky from there. There's one point at which we discover Trish dated one of her backup dancers — as did her mother (her mom apparently told him they were sisters).
The highly anticipated second season of the series really dove into Trish's past and motivations when it returned on March 8, 2018. We saw laid bare both her desperation to acquire powers and be a hero as well as the pain from her past that caused those drastic actions. "I Want Your Cray Cray" is just one of the outlandish parts of what we find out is a pretty dark past.
Jessica Jones Season 2 may have ended on a sour note for Trish and Jessica, but take a few minutes to sit back and enjoy this funny video.