In Diversity Push, NASA Makes its First Open Call for Flight Directors
"It is, hands down, the best job in the world."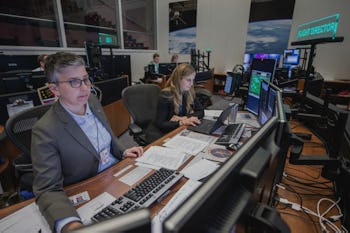 NASA
NASA's taken steps to combat sexism and ageism lately, but at 80 percent white and 62 percent male, it's still quite homogenous. But change may be in store when it comes to the most iconic NASA job, right after that of astronaut.
This week, NASA put out an open call for applications to become Flight Directors at mission control at Johnson Space Center in Houston. Holly Ridings, acting chief of NASA's Flight Director Office, tells Inverse the unprecedented move will help increase diversity in more than one sense of the word.
"I think we feel like we've always been diverse," says Ridings, who oversees the flight directors that supervise missions involving the International Space Station and Orion missions to the moon and elsewhere in space. At NASA, however, the term takes on a different connotation. "We think about it in a different way a little bit. We think about technical diversity," she says.
In this new call for applicants, NASA hopes to get the attention of people who will bring more gender, racial, and cultural diversity than the people who have traditionally held positions there.
"I think of diversity almost as spreading the word and really finding those people who might not be aware of the opportunity before," says Ridings. "This is the first time we've really done that part differently."
The photo accompanying the press release features two female flight directors, illustrating the kind of future NASA wants.
Ridings, who moved into the chief position last year, says the open call "is kind of check and balance on what we grow here at NASA in terms of capability. Other people do amazing things at other places, and those skills might be a good match for us."
Though Ridings praises the "tremendous diversity" of present-day mission control (among flight controllers, "it could be all women, it could be half women," she says), she admits that NASA hasn't always been super diverse. "Historically, we haven't had as many women available in those types of jobs," she says.
She got to where she is today after taking a job in 2005 as a flight controller whose sole job was to handle thermal systems on the ISS. From there, she moved up to flight director and then chief director over the years. But NASA officials realize that many qualified people will be overlooked if this type of internal promotion is the only professional route available to employees. "There are a lot of people out there with the skills but they've not had the same process I did," Ridings says.
If that person is you, applications can be submitted here until April 17. Of course, as Ridings puts it, "the fundamental requirements and expectations of the job have not changed at all": That means you need to be a U.S. citizen with at least a bachelor's degree in engineering, biological science, physical science, computer science or mathematics and, crucially, the ability to make snap decisions under extremely high pressure (hello, Apollo 13.)
It's a tough job that doesn't really stop — space doesn't sleep, after all — but Ridings encourages everyone to apply. "It is, hands down, the best job in the world."