Old Navy Accused of "Epic Level BS" by NASA Advisor Over Men's Shirts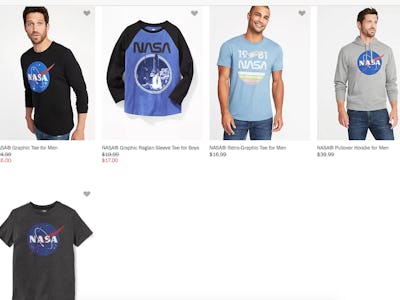 screen shot via Ariel Waldman
We regret to inform you that the brands are at it again — and failing miserably.
On Monday, NASA advisor Ariel Waldman called out retailer Old Navy for only carrying NASA-branded shirts marketed toward men and boys. While the shirts very clearly could have been labeled as unisex, it's apparent on Old Navy's website that the shirts are categorized under "men" or "boys," Waldman tells Inverse.
"I belong to a group called Space Hipsters on Facebook and saw a woman posting about a really cute shirt that she had to grab from the men/boys' side to buy," Waldman says. "I thought maybe they just made some different NASA designs for men/women/unisex, but I was dismayed when I searched for NASA on the Old Navy website to see that they had five NASA shirts, all labeled for men and boys. Old Navy positions themselves as a family-friendly brand, and they're telling families that even in 2018 NASA is only for men/boys, which doesn't feel friendly at all."
Inverse called and e-mailed representatives from Old Navy for comment. At the time of this writing, we have not heard back.
Theoretically, anyone could wear any of the aforementioned shirts, regardless of gender. But the problem is that all of them are explicitly labeled as being for "boys" or "men." The message here — communicated intentionally or otherwise — is that space is still a boy's activity, which is precisely what women in aerospace have fought against for decades.
"I've seen plenty of women sporting NASA swag, from managers at NASA HQ to girls excited about space," Alessondra Springmann, an astronomer at the Arecibo Observatory, tells Inverse. "Old Navy has broad appeal and affordable prices, why not use their powers to make NASA shirts more available to more girls and women around the country?"
Sure, these are just t-shirts. But the idea of space as a boy's club is certainly, sadly, more alive than ever. NASA reports that only 50 women astronauts have ever flown with the agency, compared to hundreds of men. Though those numbers are changing as a result of an increased emphasis on diversity in STEM careers, you'd never know that looking at these Old Navy Dude Shirts.
"It doesn't matter what gender you are," Springmann says. "NASA is cool, and wearing space shirts makes you feel like part of the science and engineering adventure."
_Update 3/20 4:40 p.m.: Old Navy has responded to Inverse with the following comment:
At Old Navy, we believe that fashion is a way for our customers to wear their passion and share it proudly – whether they love science, want to represent their favorite sports team, or have an interest in the arts. Old Navy featured the NASA logo within our girls' graphic tee assortment last fall, and we have another range of tanks coming in stores in May, followed by additional graphic tees this August. We are thrilled that our customers have continued to show their love for these pieces and look forward to making more options available in the months ahead.