SpaceX to Launch 2 Rockets in 4 Days: What to Know
Rapid launches coming this weekend.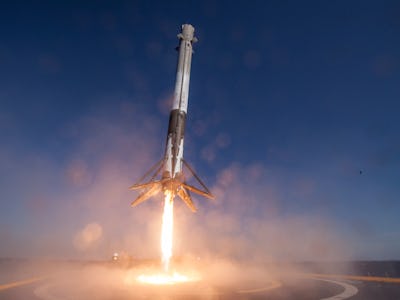 NASA
SpaceX is gearing up to launch not one, but two rockets over the span of four days.
The Elon Musk-headed space startup is scheduled to launch the Iridium-5 and CRS-14 only two days apart, speeding up its launch progression. SpaceX's rapid rocket launches mean it is already two months ahead of its 2017's launch pace, provided they go smoothly.
First up is the Iridium-5 NEXT launch, which is scheduled for Friday, March 30 at 10:13 a.m. ET. This launch will come out of SpaceX's Vandenberg Air Force Base in California. According to Ars Technica, the launch is the fifth set of 10 satellites that SpaceX is launching for Iridium rocket, with a total set of 75 hanging in Earth's low orbit. If there is any trouble on the horizon, SpaceX has a later backup launch time for Saturday.
Right after Easter weekend, SpaceX is getting right back to work with yet another launch. The space-focused venture has scheduled a flight launch for its CRS-14 rocket on Monday, April 2, around 4:30 p.m. EST. The CRS-14 will launch from SpaceX's Florida launch pad. Nicknamed "The Dragon," this CRS-14 spacecraft is a cargo mission that's set to carry a whopping 1.7 tons of pressurized cargo, along with 926kg of unpressurized cargo, to the main station.
After this duo launch, SpaceX isn't slowing down. In fact, the company has two more mission launches scheduled later in April. The first is the flight of NASA's Transiting Exoplanet Survey Satellite, taking place on April 16. Then later in the month, SpaceX's Bangabandhu 1 communications satellite is set to debut the Block 5 version of the Falcon 9 rocket.
The spacecraft launches can be watched on SpaceX's official site, where the company will stream them live this weekend.