Elon Musk's Neuralink Startup Planned to Test on Animals, Report Claims
A new report has shed light on its plans.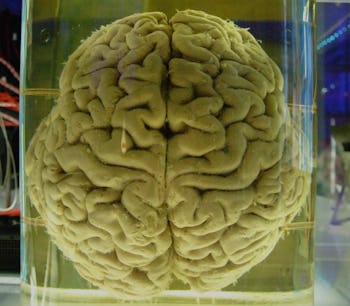 Wikimedia Commons
Neuralink, the mysterious startup founded by Elon Musk to explore wiring computers to brains, planned to turn its San Francisco headquarters into an animal testing facility. That's according to a report published Tuesday, which shows the secretive company — bar one explainer published in April 2017 — may have been secretive for a reason.
Gizmodo obtained public records that showed Neuralink CEO Jared Birchall tried to renovate the headquarters in a letter to the Planning Department, with a "small operating room for in vivo testing, and a small room to house rodents." The letter explains that rodents are exempt from the Animal Welfare Act. The company then told the city that it had abandoned those plans, and evidence suggests Neuralink has instead been researching at the Davis campus at University of California since June 2017, with potential ambitions to revisit plans in the future. An architect involved with the project told the publication that the company was now looking elsewhere for a place to build.
Musk's startup has kept a low profile, but public postings suggest Neuralink plans to initially focus on helping people with disabilities. This could involve paraplegics activating muscles, aiding people that forget things in old age, or repairing brains after a stroke. The future goal is to link up minds with artificial intelligence to create a symbiotic relationship, avoiding a robot takeover.
Animal testing is a common aspect of brain-computer interface research, but Musk has not mentioned Neuralink using the same approach before. Alik Widge, a psychiatrist-engineer focusing on brain stimulation, told the publication that while rodents can be used for early stages, the company will eventually need an animal like a pig that has a "big brain with lots of folds" to properly test its creation.
The revelations may help explain why Musk has kept uncharacteristically quiet about Neuralink, even as he regularly posts to his Twitter about The Boring Company founded around the same time. A breakthrough is not expected for another few years, but the use of animal experimentation may explain why the company has said little in public.
Neuralink is not the only player in this area — Facebook has also been quietly researching brain connectivity.