North Dakota is All About the Drone Industry
Turning those fields of grass into fields of unmanned death machines.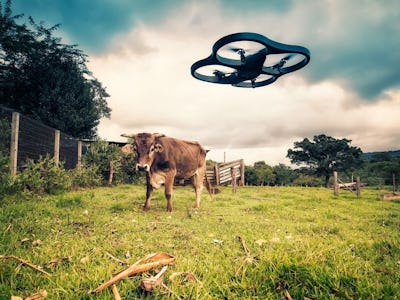 Flickr user Lima Pix
The Dakotas have an undeserved/sometimes-deserved reputation for having lots of land and little innovation to show for it. But, while the coastlines hog all the attention from tech's major players, Silicon Prairie has been quietly incubating the hell out of itself. The maturing local scene is now ripe for an industry in search of a really big landing pad. Drones are going to fly-over country.
This summer will see the opening of the country's first unmanned airport: Grand Sky Development Park in North Dakota's Grad Forks Air Force Base. The opening comes at a crucial time for the drone industry. Multiple rules and regulations enforced by the Federal Aviation Administration have stymied different companies' efforts to make drones an important part of commercial business. Many major companies, including Amazon and Google, have expressed how challenging its been to work in the U.S.. In order to change the legal status quo, drone makers and drone user need quite a lot of proof of concept and a minimal number of stories about people getting clocked in the head.
So, when the $25 million, 1.2 million square foot airport opens this summer, the hope isn't just that it will prove a convenient testing ground, but that said testing ground will help growing drone operations prove that they can work in areas populated with, you know, people. And you better believe North Dakota is on board. Project developers expect to create 3,000 jobs to open up by the airport's 2016 completion. Northrup Grumman has already signed on as the site's anchor tenant.
State officials anticipate that the airport will have an influence that stretches into many parts of the country. Nearly 1,000 jobs are expected to be out-of-state, since pilots can operate drone aircraft at the airport from anywhere in the country. Northrup Grumman, for example, is headquartered in Redondo Beach, CA, and would be unlikely to move its major operations just to be next to Grand Sky. Still, the company needs more open space to expand its work in drones — and states in the Midwest are more than eager to turn their unused fields into opportunities to attract new investment.
It doesn't hurt that the University of North Dakota was the first institution to offer an undergraduate degree in unmanned aviation or that the state now boasts more than 45,000 square miles of airspace authorized for drone operations. Fargo, North Dakota is experiencing a renaissance worth $98 billion as the city becomes a hotspot for drone startups. The state is essentially allowing wildcatting in the sky.
If the airport proves successful, more unmanned airports are sure to open in North Dakota and beyond. Silicon Prairie won't just grow; it will flourish.