Netflix is Making a Live-Action Carmen Sandiego Movie
And, she'll be played by Gina Rodriguez of 'Jane the Virgin' fame.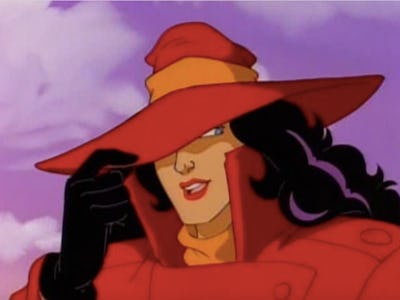 Fox
Where in the world is Carmen Sandiego? The answer is Netflix.
On Monday, the network announced that a live-action Carmen Sandiego film is in the works, according to Deadline. While no writer or director is attached year, the film is being described as a "standalone Carmen adventure that will embrace the beloved Nineties's property." Gina Rodriguez had landed the lead role of the globe-trotting criminal in the streaming service's upcoming film.
Rodriguez will also serve as a producer on the project. This comes on the heels of last month's news that Rodriguez will star in and produce romantic comedy Someone Great for Netflix.
Netflix is also bringing the Nineties cartoon figure to its subscribers through an all-new animated series. Like The Magic School Bus before it, Netflix has ordered an animated Carmen Sandiego reboot, which is set for a 2019 debut. Rodriguez is involved in that project as well as the voice of Carmen.
The franchise has made its way into various forms of popular media over the years. The original animated series premiered in 1994 and ran for four seasons on Fox. In it, two agents named Zack and Ivy chased Sandiego, an international thief, around the world by two agents. There have also been game shows, books, video games, and comic books about her adventures.
Rodriguez made a big splash when she landed the lead on The CW drama Jane The Virgin. Recently, she made the jump to the big screen, co-starring alongside Natalie Portman in Annihilation. With rumors about the end of her CW series swirling around, this could be part of Rodriguez's plan for the next stage of her career.
After living in cartoon worlds and pages of book, it seems Rodriguez and Netflix are ready to bring Sandiego to life.