These Tech Startups Forced the Wine Industry to Get Over Itself
Disrupting vino made it better for everyone.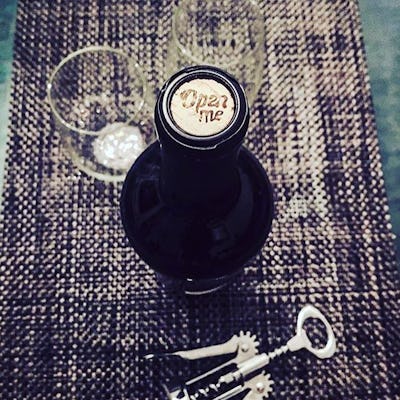 Naked Wines
By now, it's common knowledge that millennials love their wine. In fact, this generation consumes a whopping half of the wine sold in the U.S. every year. Anecdotal evidence from friends and colleagues confirms this.
Millennials love buying wine so much it's shifting sales of vino to the internet, as is the natural progression of all things beloved. Millennials "getting into wine" is the antithesis of what was once deemed an elite hobby, much to the chagrin of wine snobs. But at last, the democratization of wine is here — and there's nothing they can do about it.
The Rise of the Online Wine Club
Nascent wine distributing startups like Tasting Room, Winc, Drync and Naked Wines have helped shape the wine e-commerce market. Meanwhile, apps like Vivino have helped grow this category even further, by making amateur sommeliers out of wine lovers looking to discover new varieties online or in-person at shops. Users can take a picture of a wine label, which then scans to a database that has specific information about the quality of the wine. It's like Yelp for vino.
On the eighth floor of a Manhattan office building, you can find workers typing away on laptops, seemingly doing typical startup tasks expected of millennials.
But this isn't a finance or even a marketing company, it's the headquarters of direct-to-consumer wine distributor Tasting Room. With dozens of wine bottles dotting the open-floor office, this is where the startup helps users discover and taste new wines from around the world.
"We in the wine industry are just starting to scratch the surface," Tasting Room's Marketing Director Meredith McManus tells Inverse.
How Tech is Democratizing Wine Sales
To shamelessly deploy a Silicon Valley buzzword, the wine industry has proven tough to "disrupt." Unlike eyeglasses and mattresses, going from conglomerates and distributors to direct-to-consumer isn't easy with booze," McManus explains.
This is because tech platforms selling wine are working around legal obstacles that have been in place since Prohibition was enforced back in 1920. One of them involves shipping alcohol across state lines.
Tasting Room's Chief Marketing Officer Craig Davis agrees, telling Inverse distribution laws specific are specific to individual states and sometimes, even counties. "It's a very difficult landscape to navigate, and there hasn't been as much innovation as there should have been in the past few decades," he explains.
The biggest challenge for winemakers these days is twofold, according to Napa-based winemaker Matt Parish.
"First, how do I pay for the winemaking process, which takes many years and lots of capital?" he says. "Then, how do I sell it all?"
Since independent winemakers don't have the help of a large distributor, they have to spend time away from the vineyard trying to sell their batches to restaurants and bars. But new apps and wine startups are putting more varieties of wine into more people's pantries, making this whole process easier from purchase to pour.
Why Wine Startups Face Legal Obstacles
Instead of focusing on small-time production operations like picking grape varieties, Tasting Room has had to spend time picking battles in municipalities in order to get certain wines to their customers. "There are a lot of special interest groups involved that want to keep the system the way it is now and keep the money in certain states," Davis says.
This makes selling wine online nearly impossible sometimes.
"Just even being able to ship wine is a huge deal," McManus explains, referring to the lack of regulations to address modern alcohol transportation. Not to mention, today's on-demand market — thanks largely to millennials' consumption habits — is hard for lawmakers to keep up with. "Not only is shipping wine expensive due to fragile glass, but it requires a lot more hand holding for consumers who need to sign for the package and prove their drinking age."
Several startups are hoping to change the way entry-level wine drinkers "get into" wine with the help of crowdsourcing and easy-to-use platforms — an updated version of the catalog wine clubs your parents subscribed to in the nineties. After all, Generation Y is known for being avid wine and tech consumers, making the market seriously prime.
"We wanted to do something different than the traditional wine clubs, but also take advantage of wine tasting trends by combining them with the technology," Davis says. This means going after a younger demographic that's curious about wine but isn't an expert in it.
Thanks to its flexible wine portal, Tasting Room has to date acquired over 200,000 members across 43 states since launching in 2013, according to the company. Tasting Room also partners with entertainment and media brands — including Saturday Night Live, Starz's Outlander and this month, The Lord of the Rings — to launch private wine labels.
"We go to all the big wine shows, along with unknown wineries around the world that want to break into the U.S. for the first time," Craig says.
Naked Wines, a UK-based startup specializing in crowdsourcing for wineries, has also found obstacles with the legality of online alcohol sales in the U.S.
Co-founder Ryan O'Connell tells Inverse that while the five-year-old company isn't a traditional wine club, selling wine still complies with old rules. And while the federal government has done a great job opening up routes of shipping between wineries and consumers, states still hold the power of disallowing it.
"The tech layers are changing the surface of the business, but fundamentally we all must comply by the three-tier system," he says. This refers to the system for distributing alcoholic beverages that set up after the repeal of Prohibition, with the tiers representing importer or producers, distributors, and retailers.
"One of the biggest questions we get from customer service is 'why can't I get this wine here when I can get it in another state?"
This system is slowly unraveling, much to the delight of vineyards and thirsty consumers. In Arizona, a wine distributor used to have to ship within the three-tier system, but now, the state allows direct-to-consumer sales. The same system has been implemented in Pennsylvania within the last five years.
"We really want to bring people to the winemakers themselves," O'Connell says, referring to the feedback winemakers get from Naked Wines' "Angels" (consumers) to help them succeed. Similar to Patreon and Kickstarter, Naked Wines highlights smaller wineries, including vineyards owned by women and people of color.
Naked Wines launched in the UK in 2008, and then in the USA and Australia in 2012. Today it boasts more than 100,000 "Angels" in the USA and is funding over 150 winemakers. Part of the site's goal is to help consumers try limited-production with the help of millions of reviews and ratings from fellow wine drinkers. Not only does the process help fund wineries in need, it also breaks down the traditional consolidated distribution the wine industry is known for.
Naked winemaker and partner Parish, who currently has over 8,000 followers on the site, says the startup allowed him to return to actual wine producing.
"A platform like Naked Wines helps make this process seamless and allow me to make my wine," says Parish, who spent years working for large wine estates before transitioned into independent winemaker at Naked Wines. He now focuses on making acclaimed Central Coast Pinot and Napa Cabernet.
How Wine Makers Benefit From the Technology
Speaking of platform, not only does it help sell inventory, the site also provides communications and feedback between the winemakers and buyers (AKA drinkers).
Another Naked Wines partner, Scott Peterson tells Inverse that direct-to-consumer online sales help winemakers profit and customers save money by "cutting the fat in the middle."
"The margins are already so slim for the winemakers due to the three-tier system, so partnering with a platform like Naked Wines helps wineries like mine distribute inventory and stay out of debt."
Peterson currently has more than 100,000 followers on Naked Wines through his private label Rumpus Cellar. He notes that one of the most useful aspects of making wine for online sales is receiving grades based on sales and reviews, which helps keep funding flowing.
"The technology is already making wine more accessible," Parish says. "Years ago, enthusiasts used to read Wine Spectator magazines and the likes, now they're more reliant on what their peers think."
While legislation hasn't caught up with the e-commerce side of wine sales, it's only a matter of time before they're forced to address the growth of this thirsty industry.