Katsuko Saruhashi: 4 Quotes by the Geochemist on Women in Science
She had strong views on gender parity in STEM.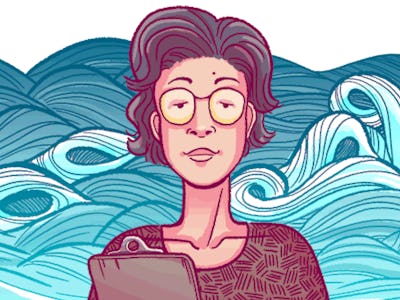 Google honored Katsuko Saruhashi with a Doodle on Thursday that celebrated the 98th birthday of the late geochemist. Saruhashi was the first woman to earn a doctorate in chemistry from the University of Tokyo in 1957 and is considered a pioneer in her field. But when she wasn't shattering glass ceilings herself, she advocated for women in science and created spaces for women to advance in the field.
Saruhashi is best known for her success in measuring the levels of carbon dioxide (CO2) in seawater, which would later show evidence of seawater in the atmosphere. She was the first to accurately measure several characteristics of water, including pH levels, chlorinity, and the concentration of carbonic acid based on temperature. This measuring system would become known as Saruhashi's Table and is the methodology still used to determine carbonic acid in water.
Why Not More Women?
Saruhashi imagined a world where women didn't have to fight to break into science but could simply work side-by-side with their male colleagues, freeing up their time to focus on what they're there to do: science. By removing the extra barriers, they would be able to contribute just as much to research and innovation.
See also: "Katsuko Saruhashi: Why the Geochemist Has a Table Named After Her"
"I worked hard. I concentrated entirely on learning how to do science. But that was not an effort I made as a woman to compete against men. I knew that by working hard, I could slowly unwrap the secrets of nature … this was such a joy … the sheer joy I enjoyed as a researcher."
Bringing Women to the Field
Saruhashi was an early and outspoken advocate who pushed for more women in science and technology. She frequently called attention to the lack of women in the room at any lab or conference.
"There are many women who have the ability to become great scientists. I would like to see the day when women can contribute to science & technology on an equal footing with men."
Why Women's Research Should Not Be Ignored
Her research led to an important policy. Saruhashi developed a method to track radioactive fallout over ocean water. She was one of the first scientists to provide research showing how the effects of fallout can spread across the entire world, and not just affect the immediate area, which resulted in heavier restrictions on nuclear experiments in the ocean.
"I wanted to highlight the capabilities of women scientists. Until now, those capabilities have been secret, under the surface."
On Awarding Women
Her career firsts earned her a spot as the first woman ever added to the Science Council of Japan. While she joined several elite groups of scientists, often as the only woman, she created new spaces to encourage the advancement of women in her field. In 1958, she established the Society of Japanese Women Scientists. In 1981, she established her own Saruhashi Prize, an annual award given to a female scientist younger than 50 who serves as a role model for the next generation.
"The prize highlights the capabilities of women scientists. Each winner has not only been a successful researcher, but a wonderful human being as well," she said while awarding scientists the Saruhashi Prize.
Throughout her career, she spoke of her wish to see gender parity in the field and fought to create space for women to work.