Our neighbors to the north know how to celebrate too.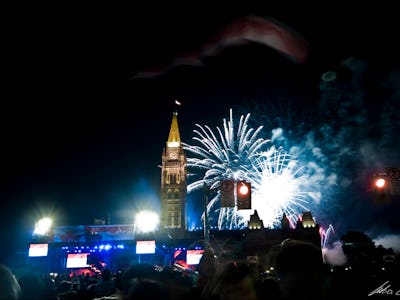 www.flickr.com/photos/29143375@N05
Us 'mericans love the Fourth of July, North America's greatest explosion-based holiday. But Canada's Fourth is first: July 1 is when Canucks celebrate Canada Day (Fête du Canada for all the Francophones out there) and its maple syrup-slathered freedom. The holiday commemorates the 1867 signing of the Constitution Act that joined the then three provinces together to form a unified Canada.
Raise a Molson, wolf some poutine, throw on some hockey skates, swipe your provincial health card to fill a reasonably priced prescription, try not to run over a moose … whatever it takes to feel Canadian. We've got your red-and-white patriotism roundup from Parliament Hill in Ottawa, to Old Port in Montreal, to Kits Beach in Vancouver and everywhere in between.